Our wonderful readers now have the chance to win a FREE ticket for the  European Antibody Congress in Basel, Switzerland!
On 31st October – 2nd November you will have the opportunity to participate in a vibrant gathering with more than 200 speakers and 650 influential decision makers from across academia and the biotech and pharmaceutical industry!
Apply today and WIN a FREE ticket to the European Antibody Congress! Event highlights include keynote speeches from key industry leaders, such as Pfizer, MSD, Novartis, GSK, Roche, and Bicycle Therapeutics. You can participate in 9 roundtable discussions headed by leading industry experts, or listen to speeches by professionals from leading biotechs. You can also enjoy talks with academics from top universities.
For more details check-out their brochure here.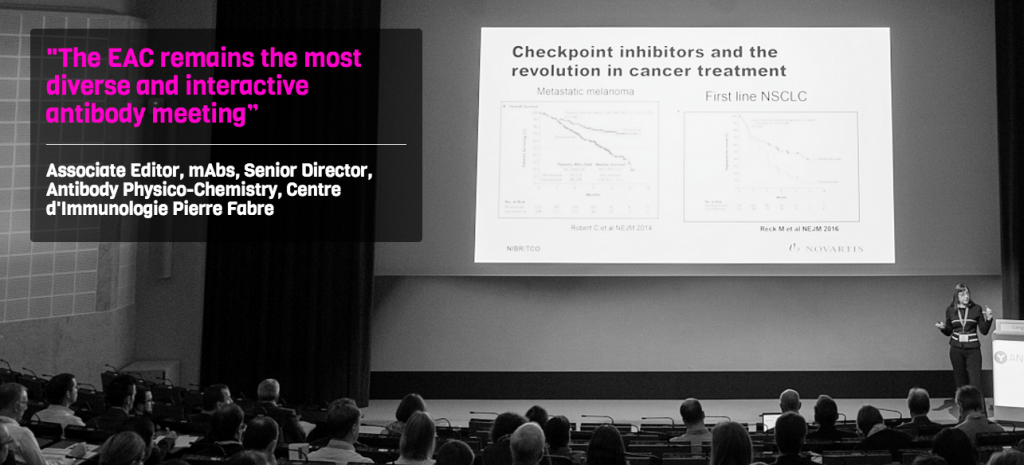 The European Antibody Congress is partnering with Labiotech to offer a free ticket to one of our awesome readers (that's you!) attend the conference taking place on 31st October – 2nd November.
These Top Speakers will Share their Knowledge and Experience:
Roy Baynes,  SVP & Head, Global Clinical Development, Chief Medical Officer, MSD
Puja Sapra, Executive Director, Pfizer Worldwide Research and Development
Michael DeRidder, Senior Director, Early pipeline commercial strategy, Oncology, Cell Therapy, GSK
Sir Gregory Winter, Master of Trinity Cambridge University, Founder and co-Founder, Bicycle Therapeutics
Andre Choulika, CEO, Cellectis
Hans Klingemann Ulrich Brinkman, Scientific Director, Expert Scientist, Roche
John Delaney, Executive Director, Amgen Biologics Discovery
Andreas Plückthun, Professor of Biochemistry, Director, Department of Biochemistry, University of Zurich
What you'll get:
Access to the European Antibody Congress  and co-located conferences: World Immunotherapy Congress, World Biosimilar Congress and HPAPI World Congress!
Access to the exhibition part of the congress
And of course: free refreshments and lunches, plus free access to the networking functions
How to take part in the prize draw?
Just drop use your email above (you'll need a company email address)
The prize draw closes at 23:59 on 15 September 2017 (Ts&Cs accessible here)
The winner will be randomly selected and announced on 18 September 2017
We wish you the best of luck!
P.S. We are planning on teaming up with a few more events, so we can have more giveaways for our awesome readers (that's you!) – stay tuned for more! – What's your favourite event, whom should we partner with? – Send us a quick email or let us know in the comments.