Janssen will discontinue a Phase I study testing Danish biotech Genmab's blood cancer blockbuster daratumumab combined with a candidate checkpoint inhibitor in patients with multiple myeloma. 
Janssen, which obtained the exclusive global rights to commercialize daratumumab from Genmab in 2012, will also discontinue a Phase Ib/II study of daratumumab in patients with non-small cell lung cancer. This marks a major setback for Genmab, since daratumumab will not be developed further and the company is not likely to profit from the wave of interest in immunotherapies. Following the news, Genmab's stock price dropped by around 20%.
Neither combination therapy improved the proportion of patients whose tumor size was reduced, and some increased mortality-related events in the lung cancer trial. The news casts doubt on whether the blockbuster drug can be effective when used with anti-PD-(L)1 checkpoint inhibitors.
Daratumumab, also known by the brand name Darzalex, was first approved in 2015 and is available in the US, Europe and Japan for treating patients with multiple myeloma who had received one prior therapy. The drug acts on the CD38 antigen, which is highly expressed on the surface of multiple myeloma cells, and activates the immune system to attack the cancer cells.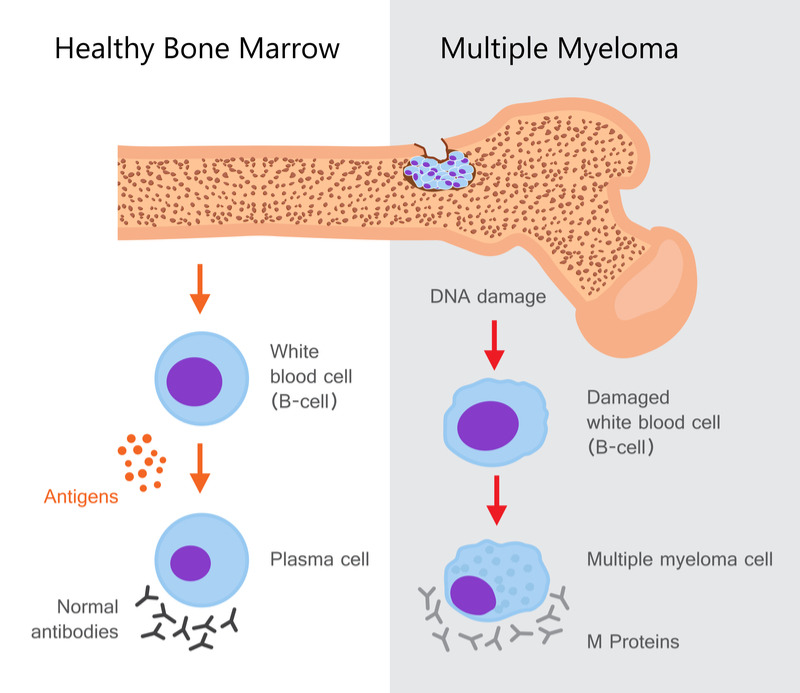 Today's news is not the first setback Janssen and Genmab have experienced in developing daratumumab. MorphoSys, Janssen and Genmab's main competitor in this space, is suing both companies, claiming that daratumumab infringes on a patent MorphoSys holds for a drug targeting the same antigen. A trial is scheduled for this August in the US state of Delaware. Furthermore, the companies decided to discontinue developing daratumumab as a treatment for non-Hodgkin's lymphoma last year after the treatment failed to improve patient health in a Phase II trial.
Checkpoint inhibitors have attracted a lot of attention in recent years for their potential to significantly improve the outlook for cancer patients for whom other treatments were ineffective. For example, pembrolizumab, one of the first checkpoint inhibitors, had impressive effects on patients with metastatic melanoma who did not respond to standard therapy.
Despite these setbacks, daratumumab has generated positive clinical results in combination with standard chemotherapy in treating multiple myeloma. In a Phase III study completed last year, daratumumab used with chemotherapy reduced the progression of multiple myeloma and deaths from the disease by 50% compared to chemotherapy on its own.
---
Images by Giovanni Cancemi, Fancy Tapis/Shutterstock