GenSight has demonstrated that its gene therapy for a rare disease causing blindness can significantly improve the vision of patients. But so does the placebo.
GenSight Biologics has released the results of a Phase III clinical trial testing its gene therapy GS010 in patients suffering from Leber hereditary optic neuropathy (LHON), a rare mitochondrial disease that causes irreversible loss of vision.
In the trial, 37 patients were injected with the gene therapy in one eye and with a sham injection in the other. The results show a significant improvement in the eye treated with the gene therapy, with patients being able to see in average 11 letters more in a traditional ETDRS test after almost a year. But, unexpectedly, the untreated eye also showed an equally big improvement of 11 ETDRS letters.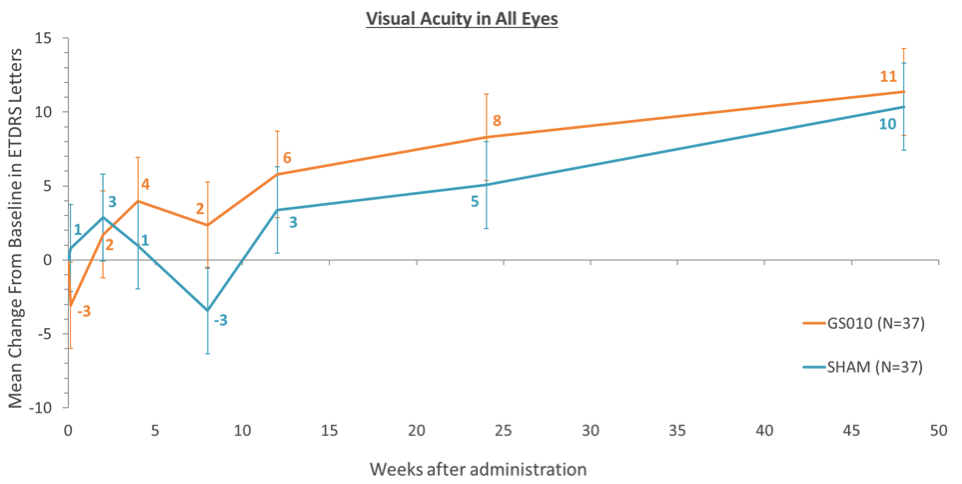 Spontaneous recovery of vision is possible in patients with LHON, but it is only reported in up to 22% of patients. GenSight has stated that they will further study the data to better understand what has happened, and CEO Bernard Gilly has hinted at the possibility that the gene therapy might be benefitting both eyes despite being used only in one of them.
The data seems to be quite different from the results of a previous Phase I/II, which showed a much bigger improvement in the eye treated with GenSight's gene therapy that was maintained after 2.5 years. However, that trial tested it in only 5 patients, which might have resulted in a bias.
While the results are clarified, the uncertainty of whether the therapy works — at least better than a much cheaper placebo injection — has impacted GenSight's stock on Euronext Paris, which is down by 33% since it opened this morning.
The patients of this trial will continue to be monitored for another 4 years, and another two Phase III trials are underway. One is testing the therapy in patients that have been affected by LHON for less than 6 months (instead of between 6 and 12 months), and the other is studying the effect of injecting the gene therapy in both eyes.
---
Images via paulista /Shutterstock; GenSight Biologics