Kiadis Pharma has received approval to test in the UK an immune therapy to address the big challenges of bone marrow transplants, currently the only cure for blood cancers.
Kiadis Pharma, based in Amsterdam, is working on therapies to improve the outcome of hematopoietic stem cell transplantation (HSCT), a common treatment for multiple types of blood cancer. The company has just received approval from the UK's Medicines and Healthcare products Regulatory Agency (MHRA) as well as hospitals in Manchester and Birmingham to start a Phase I/II trial with ATIR201 to treat thalassemia.
The trial is expected to recruit up to 10 patients with beta-thalassemia major and expand into Germany once Kiadis receives approval. First results are expected in late 2017.
Thalassemia is a genetic disease that results in insufficient hemoglobin production, leading to a shortage of oxygen in the body. ATIR201 is an adjunctive immune therapy to HSCT, the only treatment that offers a cure for this disease. Kiadis' therapy provides the patient with functional immune cells to protect them from infections and graft-versus-host-disease (GVHD), in which the donor cells attack the recipient's body, while the transplanted cells regrow a functional immune system.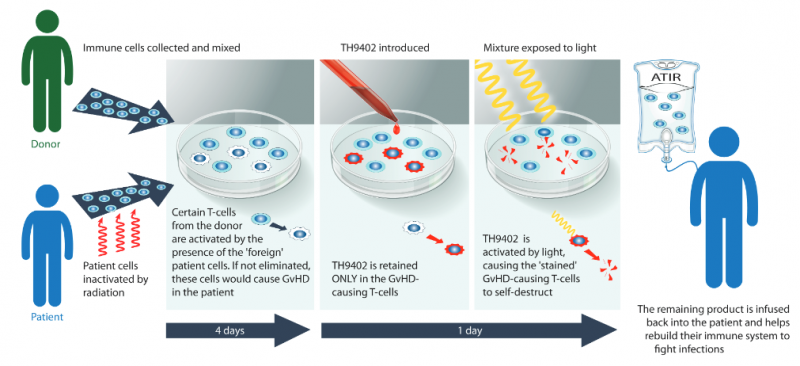 Unlike other companies fighting blood cancer with immune therapies, Kiadis is trying to improve the outcomes of a procedure that has already proven to be an effective cure when no side-effects arise. If its therapies prove effective in clinical trials, the company could take a piece of the HSCT market, which is expected to hit €9.5B ($10B) by 2025.
So far, it seems like the Dutch biotech's products are meeting the expectations: just a week ago, Kiadis announced positive one-year Phase II results for ATIR101, its lead candidate to improve HSCT in leukemia, at this year's American Society of Hematology (ASH) annual meeting.
Kiadis Pharma will have to compete with companies pursuing other immuno-oncology strategies to treat blood cancer. A big contender will be the revolutionary CAR-T, a game changer in the treatment of cancer, with Juno Therapeutics, Kite Pharma, Novartis or Bluebird Bio as some of the main players. However, the recent deaths of several patients in clinical trials are raising questions about the safety of these therapies.
---
Featured image by Dmitry Kalinovsky/shutterstock.com; figure from Kiadis Pharma
---