Novartis has received approval for Luxturna, a gene therapy that can restore vision in people with a specific genetic mutation that causes progressive vision loss.
The therapy is indicated for people with mutations in the two copies of a gene, called RPE65, that cause retinal cells to die over time, resulting in progressive loss of vision that starts in childhood. There is currently no treatment for people with this genetic condition.
Those that get a positive result in a genetic test and still have enough functioning retinal cells can be treated with the gene therapy. In a Phase III clinical trial, a single dose of the treatment improved the vision of patients after a year, as measured through a test where patients have to find their way at different light intensities. Improvements were seen as early as 30 days after the treatment.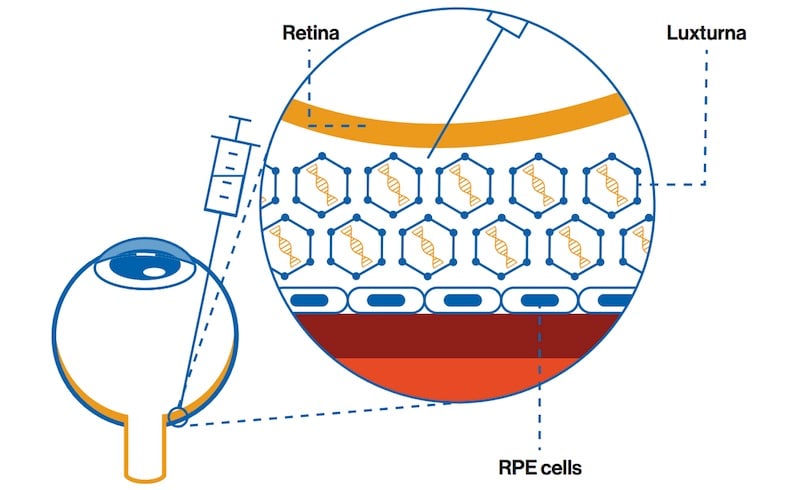 Developed by US-based Spark Therapeutics, the therapy was approved almost a year ago in the US, where its price is the most expensive for any drug in the world at €750,000 ($850,000).
Novartis is now in the process of negotiating pricing and reimbursement in different EU countries. "The first national reimbursement approvals of Luxturna are expected in 2019," Dirk Sauer, Global Development Unit Head of Novartis Ophthalmology, told me.
"The timelines for the reimbursement process in France, Germany and countries from the Nordics suggest that these may be the first countries where patients may be able to access Luxturna, with a number of other countries following."
Luxturna is the first gene therapy for a genetic form of blindness, but several others are in development. In Europe, companies including GenSight, Nightstar and Horama are developing their own gene therapy approaches for different types of genetic blindness. 
---
Images via Shutterstock; Novartis