French diagnostics company Magnisense has raised €5M to expand the sales of its emergency tests for heart attack and heart failure, which can be performed at home in just 15 minutes.
The diagnostic technology developed by Magnisense, called MiAG, uses magnetic nanoparticles to detect extremely low quantities of cardiovascular biomarkers in the blood.
"MiAG allows biomarker quantification with the same quality of results than the ones obtained with big automates in the central labs of hospitals, but in only 15 minutes whenever and wherever it is necessary," Lyse Santoro, CEO of Magnisense, told me.
The device is designed for patients and medical professionals to perform rapid emergency tests. The results and the patient info are sent wirelessly to the hospital, saving time that could be vital to save the life of a person in a critical condition.
Two of the tests, to diagnose myocardial infarction and heart failure, are already on the market. "The reader and the tests are already implanted in a few sites, mainly in hospitals and clinics (central labs, emergency services and ambulances) in France and Switzerland, and is arriving on the Belgium market very soon," said Santoro.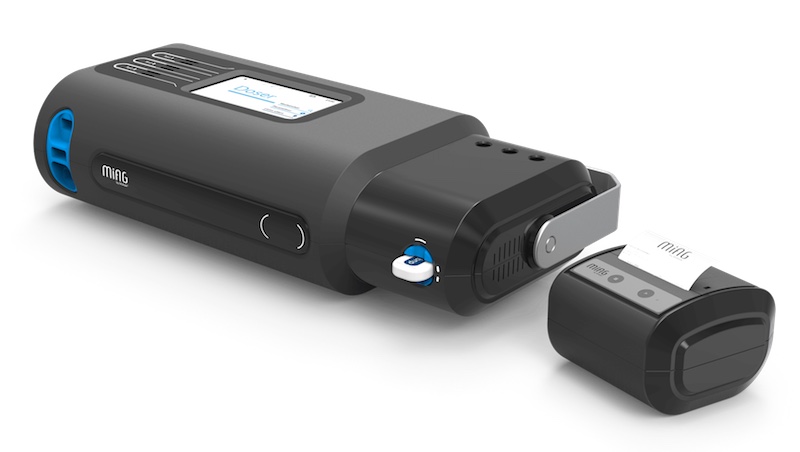 With the new funds, Magnisense will accelerate the distribution of the tests across Europe and will complete the development of a third undisclosed test for emergencies not related to cardiovascular health. As three tests can be performed in parallel, the goal is to provide medical professionals with a complete diagnostic that can confirm the patient's situation in just 15 minutes to help direct them to the right hospital or medical service.
Rapid diagnostics are starting to become available for an ever wider range of applications, from infectious disease to drug use, which can help save precious time and money by giving patients the right treatment in time.
"Combining magnetometry, electronics, software, chemicals and immunology, it allows to implement a robust device, without motors, fluidics, mechanics, or laser inside, in contrast to other technologies," explained Santoro. 
---
Images via Magnisense