Nucana Biomed has filed for a Nasdaq IPO in which it expects to raise up to $115M (€96M) to support the progression of its oncology pipeline.
Nucana Biomed, a biotech based in Edinburgh, specializes in using phosphoramidate chemistry to upgrade nucleoside analogs, a common form of chemotherapy drugs. With its pipeline reaching late stages of development, the company has decided to file for a Nasdaq IPO, aiming for $115M (€96M).
With the cash raised, the company intends to complete Phase II trials and initiate Phase III with its lead candidate Acelarin and start Phase I with two other candidates in the pipeline, NUC-3373 and NUC-7738.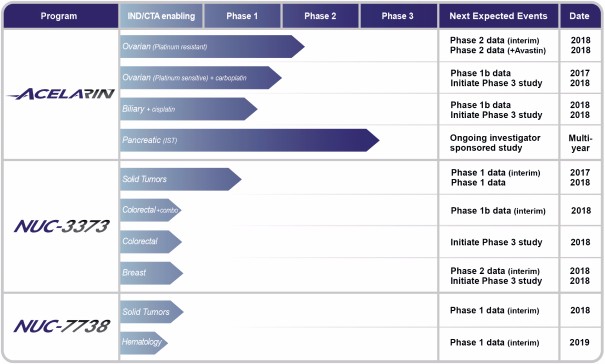 Acelarin is a new drug derived from the nucleoside analog gemcitabine, which is sold by Eli Lilly under the name Gemzar. Nucana uses its ProTide technology to add a phosphate group to the drug, which helps it overcome tumor resistance mechanisms by which cancer cells take up and degrade nucleoside analogs.
Acelarin is currently being tested in four clinical trials for ovarian, biliary and pancreatic cancer, in which it has shown a better anti-cancer potential than gemcitabine. NUC-3373, a modified version of 5-fluorouracil, sold as Adrucil by Pfizer, has already started Phase I. The third candidate, NUC-7738, is a version of cordycepin, a drug that has not yet been approved as a chemo drug.
Since nucleoside analog drugs bring hundreds of millions to big pharma, Nucana is headed to a profitable market, though it seems like it's starting to shift away from chemotherapy with the advent of gene and cell therapies such as CAR-T, which was approved last week as the first genetically-engineered cell therapy for cancer in the US.
---
Images via alredosaz /Shutterstock; Nucana Biomed