Picture Health has announced plans to commercialize a new artificial intelligence (AI)-powered biomarker with the potential to transform the way doctors decide how to treat cancer.
The advancement in cancer outcomes research sheds new light on cancer tumors: analyzing the state of the blood vessels that feed them. Recently published studies have shown the technology to be a tool for determining whether a patient will benefit across multiple cancers and treatment strategies. Using routine diagnostic imaging, such as CT scans, the studies applied AI algorithms to extract a map of the blood vessels surrounding the tumor.
"Tumors trick our bodies into building new blood vessels to grow and spread," said Picture Health's head of AI and author of the Clinical Cancer Research study, Nathaniel Braman.
"But these blood vessels differ from the kind ordinarily found in the body. Measuring their shape and organization can help predict if a patient will respond to treatment."
"Tumor-associated vessels are more twisted and disorganized," Braman noted.
"We found that the more chaotically arranged blood vessels surrounding a tumor are, the less likely treatments like chemotherapy or immunotherapy are to help." 
In addition, looking at quantitative vessel tortuosity (QVT) over time while a patient is on treatment can accelerate physician response assessment, as it may indicate treatment effectiveness earlier than changes in the size of a tumor.
About the studies
Analyzing a variety of radiologic scans of more than 1,000 patients with breast or lung cancer, the studies leveraged QVT to predict patient outcomes for common treatment strategies, including chemotherapy, immunotherapy, and surgery.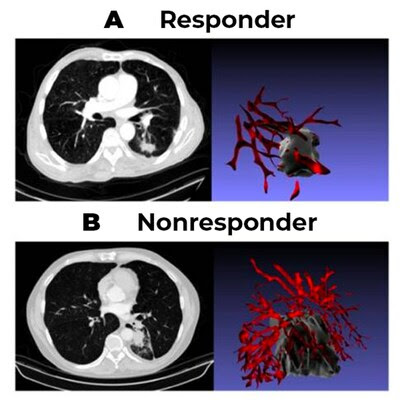 The first study was led by Braman, while the second study, published in Science Advances, was from the lab of Anant Madabhushi from the Emory School of Medicine. In this study, patients were evaluated both before and after they were treated with immune checkpoint inhibitor (ICI) therapies. They found that changes in vessel twistedness was an important indicator of when treatment was – or wasn't – working.
"Vessel shape and arrangement is a new cancer imaging biomarker that hasn't been considered before," said Madabhushi, Picture Health's chief scientific officer.
"It's a game changer, allowing us to possibly prevent wasting a patient's time and move to a treatment that has a better chance of a more favorable outcome."
Next steps
These studies are the latest in a large body of scientific literature published by Madabhushi's team. Picture Health said it will take the next step to further develop these tools to make them available for clinical use – to aid the millions of patients affected by lung cancer.
"Our technologies have so much potential to enable oncologists to improve cancer care that we are focused on moving them into the clinic quickly," Madabhushi said.
"Thankfully, we're working with multiple pharma and clinical partners to accomplish this."
"At Picture Health, we're building predictive AI tools to help clinicians decide the best course of action for their patients as early as possible, so that precious time isn't wasted," said CEO, Trishan Arul.
"These new tools are uncovering hidden information in routine clinical images – and that is key to transforming cancer care."
Partnering 2030: The Biotech Perspective 2023
Download Inpart's latest report revealing the priorities of out-licensers worldwide.