AiCuris' Letermovir succeeds in Phase III after being licensed to MSD in a record €442.5M deal. It acts on a novel CMV target to treat bone marrow transplant infections.

AiCuris is a spin-out company from Bayer, Germany's biggest Pharma, that focuses on developing drugs for infectious diseases. The company licensed its candidate Letermovir (AIC246) to MSD (Merck & co.) in 2012, making it the highest deal of Germany that year with €442.5M. MSD just announced positive results for Letermovir in Phase III clinical trials, which means a new big milestone payment for AiCuris.
Letermovir is an antiviral drug against human cytomegalovirus (CMV), which is responsible for severe infections and death of immunocompromised patients. Although no details have been released for now, the trial has met its primary endpoint: reducing the percentage of bone marrow transplant patients with significant CMV infections.
Unlike CMV treatments in the market, which target DNA polymerase, Letermovir inhibits the replication of the virus by targeting the viral terminase complex. This enzyme is necessary in the last step of replication, where the long sequence of replicated DNA is cut into individual chains for each new virus. This provides new hopes for those patients in which current therapies do not work due to mutations in the virus.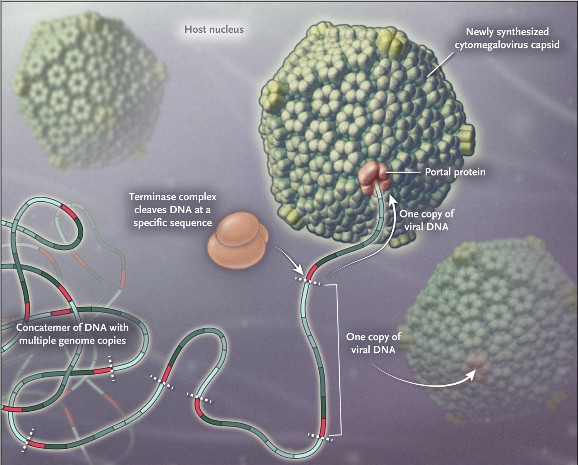 Although this is not good news for patients, Letermovir main competitor, Brincidofovir from Chimerix, failed in Phase III last year. This might help MSD establish itself in the CMV market, which is expected to reach a total of €840M by 2020.
With the funds from milestone payments and sale royalties, AiCuris will continue working in its current programs for herpes, hepatitis B and adenovirus. The company also develops drugs against multi-resistant bacteria. Check our interview with its CEO for more info!
---
Featured image: Adike/shutterstock.com
Figure 1: P. D. Griffiths et al., N Engl J Med 2014; 370:1844-1846
---