Rigontec has raised €4.8M in the second closing of its Series A financing round from Forbion Capital Partners, a Dutch life-sciences venture capital firm, and Sunstone Capital, a Copenhagen based venture capital investor. The new investment brings the total Series A to €14.2M to the biopharmaceutical company that is developing RNA-based immunotherapeutics for the treatment of cancer and viral diseases. The investment also adds two further highly experienced investors to Rigontec's investor base alongside Wellington Partners, Boehringer Ingelheim Venture Fund, NRW.BANK and High-Tech Gründerfonds (HTGF).
The proceeds of the Series A financing round will be used to progress Rigontec's lead drug candidate into clinical proof-of-concept studies, and to expand Rigontec's pipeline based on its proprietary RNA-sensing technology. Rigontec is developing synthetic ligands of a novel receptor of the innate immune system, Retinoic acid Inducible Gene I (RIG-I), which recognizes viral RNA. RNA motifs that activate RIG-I promote the destruction of diseased cells and the induction of a lasting immune memory thereby treating and preventing recurrence of the disease.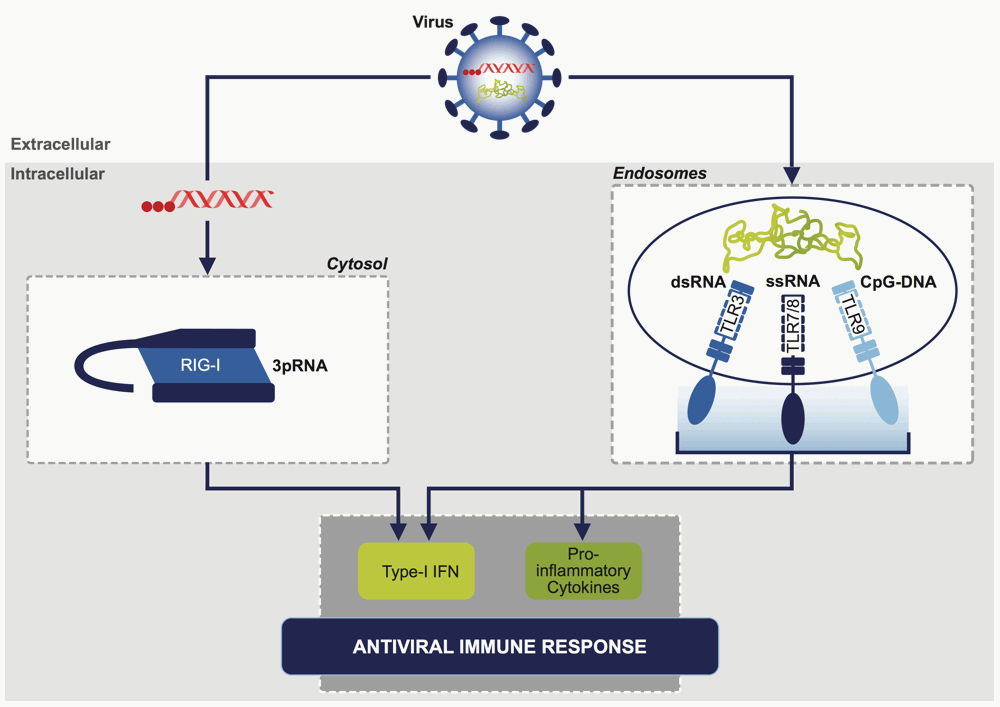 Rigontec's lead compound RGT100, a proprietary first-in-class product targeting RIG-I, is currently being evaluated for development in several cancer types. Rigontec's technology also offers the opportunity to develop antiviral therapeutics and allows the design of pipeline candidates with additional gene silencing and inhibitory activities further broadening the applicability of this groundbreaking new class of drugs in the area of oncology and viral infections.
The company was launched in January 2014 as a spin-out of the Institute for Clinical Chemistry and Clinical Pharmacology at the University Hospital of the University of Bonn, Germany. The company's co-founders, Prof. Gunther Hartmann and Prof. Veit Hornung, are internationally highly renowned scientific leaders in the area of innate immune recognition of viral nucleic acids (RNA immunesensing) and discovered 3pRNA (5'triphosphate RNA) as the ligand for RIG-I.
Dr. Christian Schetter, CEO of Rigontec, said: "We are very excited by the tremendous interest we have seen in our proprietary RIG-I platform from investors and the pharmaceutical industry more widely. We believe we are able to induce a massive highly-specific attack on tumor cells by inducing immunogenic cell death, changing the tumor microenvironment to foster anti-cancer immunity and eventually leading to a long lasting systemic immune memory."
Holger Reithinger from Forbion Capital Partners and Sten Verland from Sunstone Capital have joined Rigontec's Board of Directors.
Holger Reithinger said: "Over the last years, I have closely followed the ground-breaking scientific work of Prof. Hartmann and Prof. Hornung. Their work has culminated in a novel approach that mimics a viral infection and thereby actively induces anti-tumor immunity, both innate as well as adaptive. In effect, the tumor is turned into its own vaccine. The Rigontec approach thereby delivers in a broader sense on the promise of a personalized cancer treatment."
The field of cancer immunotherapy has developed significantly over the past few years and so has the understanding of the importance of the tumor microenvironment. Rigontec's approach is novel and groundbreaking offering the potential to break the immunosuppressive environment of the tumor and induce anti-tumor immunity.