Breaking news for French Pharma company Sanofi. The Board decided to fire Christopher Viehbacher, who was leading the company since December 2008.
Chris Viehbacher, German-Canadian, was the first non-French CEO of Sanofi, second largest French company. He had a tough management and tried to transform Sanofi (maybe too much). He managed Sanofi's transition to Biotech/Biologicals with the iconic $20 billions acquisition of Boston-based Genzyme, and managed blockbusters patents expiration.
He then tried to massively change Sanofi's intern research by firing researchers and closing lot of sites in France to outsource research through Biotech acquisition and to build an important research center in Boston. When I lived there, I could see all the Sanofi's sites opening and read that more than 5000 Sanofi employees were based there without counting Genzyme's one. Viehbacher's last scandal was his decision to manage Sanofi from Boston. Rumors said he even wanted to move the Pharma's headquarters from Paris to another city, Amsterdam or London as first choice, and even to Boston. And yesterday, he announced not as high as expected financial results that lead to the biggest fall for 17 years of Sanofi's shares.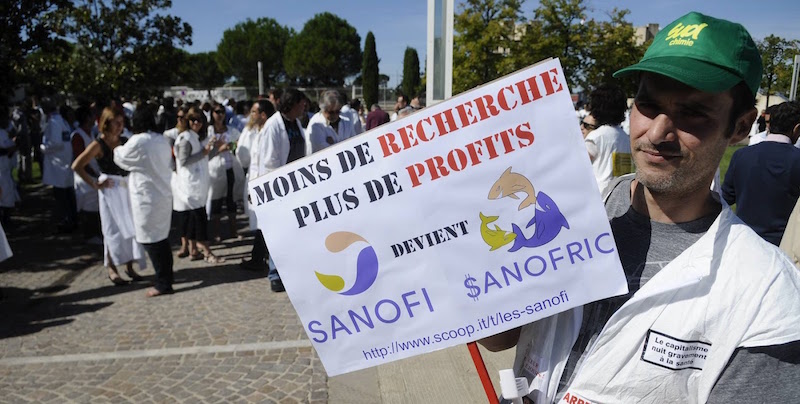 Today, the board announced it fires Christopher Viehbacher. The board stated: "The group needs to pursue its development with a management aligning the teams, harnessing talents and focusing on execution with a close and confident cooperation with the board." It seems like Vierbacher's management lead to a rivalry between him and his board. Les Echos, French business magazine, reported in September that Viehbacher wrote a letter to the board to complain about Serge Weinberg's wish to replace him. Serge Weinberg is the chairman of the board and he will replace Viehbacher until a new CEO is found.
This news does not sounds good for the Group. Viehbacher seemed to be leading Sanofi in the good way and managed a hard transition. Sanofi's shares at Paris Stock Market lost additional 4% after the 10% lost yesterday.