Topas Therapeutics received an extra €4M from Boehringer Ingelheim Venture Fund to help its autoimmune disease candidates accelerated through trials.
Hamburg-based Topas Therapeutics, a spin-off from Evotec, develops products for autoimmune diseases with high medical need. With the announcement of a €18M Series A, it hopes to take begin moving its candidates into the clinic. It had raised €14M thanks to investment from Epidarex Capital, Gimv, EMBL Ventures and Evotec, but an extra €4M from Boehringer Ingelheim's Venture Fund has seen Topas enjoy a bumper Series A.
Topas' technology uses the liver's natural ability to induce immune tolerance, fixing the faulty immune system that causes autoimmune diseases. Liver sinusoidal endothelial cells are constantly exposed to bloodborne, mostly harmless antigens. These cells promote immune tolerance by producing a key anti-inflammatory mediator, latent TGF-β, on their surface that stimulates regulatory T cells, which have anti-inflammatory properties.
To activate liver sinusoidal endothelial cells, the biotech has developed nanoparticles that are loaded with T cell-specific antigens, which can be easily taken up by the cells. These have so far been tested in a mouse model of multiple sclerosis, where they prevented disease progression and reduced symptoms.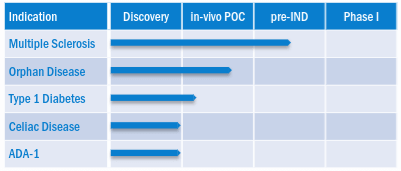 The multiple sclerosis market alone is worth $22B (€19B), and with over 80 autoimmune diseases identified so far, Topas is entering a market with huge potential returns. The company's technology is also aimed at treating allergies and anti-drug antibodies, which recognize and inactivate a drug, preventing it from exerting its therapeutic effect.
Boehringer Ingelheim was convinced by Topas' science, team and investor base, but it is not the first big to have taken a shine to the young biotech. Earlier this year, Eli Lilly signed a research agreement with Topas, which will see them select antigens that cause autoimmune disease and identify drug candidates.
The storm clouds are clearing over the multiple sclerosis field following the news that Roche's candidate, Ocrevus, was approved by the FDA. Only this week, GeNeuro saw its stock rise by 30% after it announced promising results for its relapse-remitting multiple sclerosis drug. The microbiome has been unearthed as an approach to diagnosing and treating diseases, particularly autoimmune conditions like Crohn's disease, which Enterome has taken to the clinic.
---
Images – K_E_N / shutterstock.com; Topas Therapeutics