MorphoSys (Germany) and Galapagos (Belgium) have announced a new joint program to conduct a phase I trial for a first-in-class antibody, MOR106, that could be used to treat inflammatory diseases. 

Just after announcing that it is suing Janssen Biotech and Genmab (Denmark), Munich-based MorphoSys is still keeping things interesting – this time with a phase I trial for a novel monoclonal antibody.
This break into clinical development is the result of a collaboration between MorphoSys and Galapagos – two European billion-euro Biotechs.
The phase I trial will evaluate the safety of MOR106 in at least 56 healthy volunteers, and will be conducted in Belgium. As a secondary objective, it will also characterize how the drug performs in the human body (pharmacokinetics) and possible immunogenicity (that could lead to side effects).

The topline results of the complete study are expected in the second half of 2017. As previously agreed in the partnership, Galapagos and MorphoSys will equally share the research and development costs, as well as all future revenues.
MOR106 is a human IgG1 monoclonal antibody (the most common antibody subclass to be used in approved therapies), and has a novel mode of action with a potential to tackle inflammation.
It's also the first antibody to reach clinical development that was developed by MorphoSys' novel platform, Ylanthia. This is the industry's largest known library of Fab – the antigen-binding fragments of antibodies, that directly interact with their targets.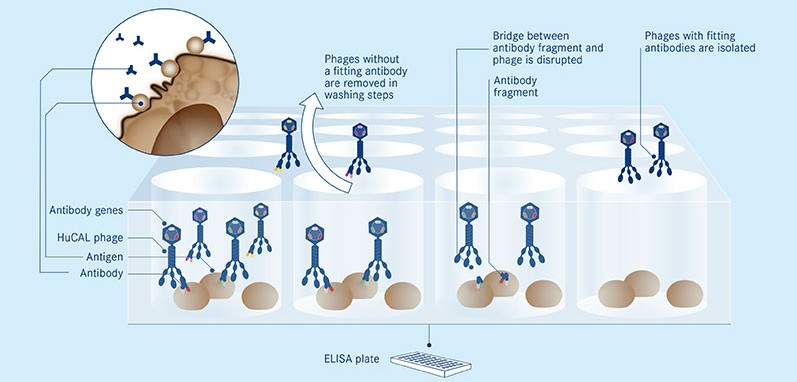 Ylanthia has already earned MorphoSys a €1M grant from the German government, as well as another collaboration with the UK-based Heptares Therapeutics.
Galapagos is not new to the development of first-in-class candidates, MOR106 is the 10th it is bringing to clinical development.
We have also interviewed both companies before – MorphoSys' CEO Simon Moroney and Galapagos' top executive Andre Hoekema, during BIO Europe 2015.
It is nice to see this German-Belgian collaboration having such a positive development, especially given that both companies have a history of disappointing alliances – MorphoSys with Celgene, and Galapagos with AbbVie. 
---
Featured image credit: MorphoSys