Allergy Therapeutics has gotten positive results for its phase II trial for birch pollen allergy – another win for their Pollinex platform.

Based near Brighton (UK), Allergy Therapeutics has around 420 employees and has a market cap of €1.96M (£1.53M).
Its focus is novel immunotherapies, with new technology for improving delivery and adjuvants – agents that modulate the immune response to the main components of the vaccine.
Now, Allergy Therapeutics has released positive topline results from its Phase II trial (PQBirch204) to study its candidate in patients with allergic rhinitis caused by birch pollen – which affects up to 30% of the population worldwide.

The study met its primary endpoint, which was establishing a dose for the next phase III trial. The therapy has also shown a good safety profile.
The therapy is a ultra-short therapy (a type of therapy also targeted by Swiss Anergis – which is also in Phase II). It was developed with Pollinex Quattro, an immunotherapy platform that combines different technology from Allergy Therapeutics.
Pollinex Quattro is based on modified allergens (allergoids) – molecules that desensitize the immune system to the allergen, without causing an allergic reaction themselves.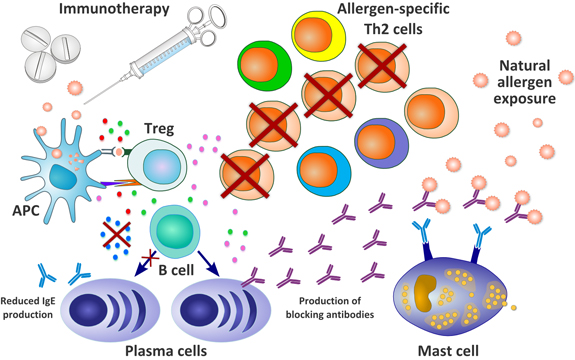 Improved allergens are then combined with a micro crystalline tyrosine (MCT) drug delivery method with suspensions of an aminoacid (tyrosine). This mix of tyrosine with the active allergen allows a slow release of the therapy – making it less overwhelming and more effective.
This method is also combined with Monophosphoryl lipid A (MPL) adjuvant. This adjuvant helps with the activity of helper T-cells – which are fundamental in adapting immune response.
Earlier formulations of Pollinex were already used to bring two products to the market, for allergies to tree pollens and grass.
Novel immunotherapies for allergies are certainly popular, and Biotech stars like Circassia and DBV Technologies. 
---
Figure 1 Credit: Bruce Blaus (2014) Blausen gallery. Wikiversity Journal of Medicine (doi: 10.15347/wjm/2014.010)
---