The FDA will allow Immunic Therapeutics to commence a Phase II clinical trial to test its oral investigational drug, IMU-838, for the treatment of ulcerative colitis.
Immunic Therapeutics, which closed a €31M Series A last September,  specializes in the development of drugs for the treatment of chronic inflammatory diseases. At the moment, the company has two ongoing development programs, working on drugs for diseases like ulcerative colitis, Crohn's disease, and psoriasis. The FDA has approved Immunic's Investigational New Drug (IND) application, giving the company its permission to administer IMU-838 to humans in a Phase II study to test its efficacy against ulcerative colitis.
Ulcerative colitis is a form of inflammatory bowel disease that causes long-lasting inflammation and ulcers in the gastrointestinal tract, which affects around 700,000 people in the US. In particular, the condition affects the innermost lining of the large intestine and rectum. Symptoms tend to develop over time and can become debilitating, even leading to life-threatening complications. There is no cure but treatment improves symptoms and can lead to long-term remission.
Immunic's candidate, IMU-838, is an oral immune modulator, which targets active immune cells by inhibiting dihydroorotate dehydrogenase, an important enzyme in metabolism. This affects the function of or induces cell death in certain subsets T-cells, Th17 and Th1, and B-cells without leaving the patient at risk of infections. So far, the pharmacokinetics and safety of IMU-838 have been tested successfully, and the company plans to start Phase II trials for both ulcerative colitis and Crohn's disease (CD).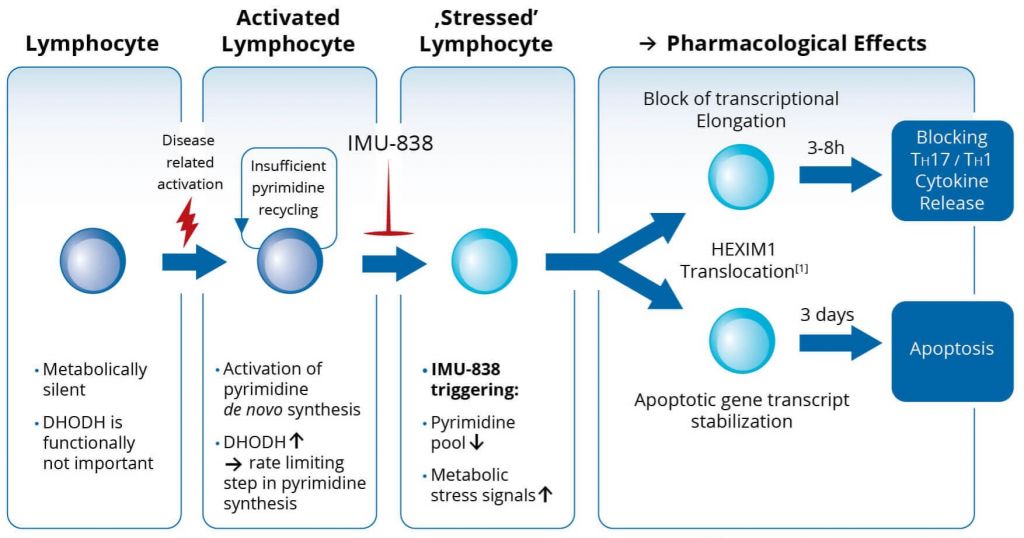 With diseases affecting the gastrointestinal tract being the third biggest cause of death in the world, it is reassuring to see a number of biotechs working in the field. Only yesterday, Heptares and Imperial College London signed an R&D collaboration to boost G protein-coupled receptor (GPCR) drug discovery for diseases of the gut. Since the turn of the year, TopiVert has also announced the completion of a Phase I trial testing its ulcerative colitis drug with reduced side effects.
Elsewhere, companies like Enterome are hoping to use the microbiome to treat conditions like Crohn's disease, with evidence supporting the importance of the bacteria in our body accumulating rapidly. There is even research indicating that 'good' bacteria can control our genes, playing a role in the prevention of cancer.
Immunic takes a more conventional approach to the treatment of an inflammatory, gastrointestinal disease with its small molecule inhibitor. However, if it can demonstrate good clinical efficacy for the treatment of ulcerative colitis in the upcoming Phase II trial, it could have a big impact.
---
Images – Christoph Burgstedt / shutterstock.com; Immunic Therapeutics