Biologicals have completely changed the way we treat diseases, and their growth has exploded in the last two decades. Not surprisingly, they took a whopping 7 out of 15 spots on the list of 2017's best selling drugs globally.
We were of course keen to find out how European-derived drugs faired out in this list. We defined European-derived drugs as those that were originally developed in European-headquartered companies, or those that were originally developed outside of Europe but are currently developed and marketed by European companies, for example, Herceptin.
Remarkably, all 5 drugs that we determined to be European-derived are among the top 11 best-selling drugs worldwide. This means that almost half of the top 10 best-selling drugs worldwide come from Europe! Drum roll, please – here is our list!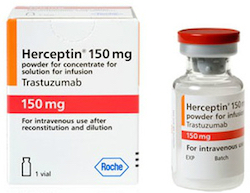 1. Herceptin (trastuzumab)
Producer: Genentech (Roche)
2017 revenue: €5.9 billion
5th best-selling drug globally
First up is Herceptin (trastuzumab). This drug entered the oncologist's toolbox in 1998, when Genentech (now Roche) was granted marketing approval by the FDA for the treatment of metastatic breast cancer. EU marketing approval was awarded in 2000. Once hailed as a wonder drug, trastuzumab is a monoclonal antibody that recognizes the HER2/neu receptor that is highly expressed in about 20% of breast and gastric cancers. Overexpression of HER2 is associated with a much more aggressive form of cancer.
Although Herceptin was developed for the treatment of metastatic breast cancer, nowadays it is often used in combination with other drugs for the treatment of certain HER2-positive metastatic gastric cancers, for example, esophageal adenocarcinoma.
The first trastuzumab biosimilar, Ontruzant (by Samsung Bioepis), received approval by the EMA late last year for the treatment of early and metastatic HER2-positive breast cancer, and HER2-positive metastatic gastric cancer. This is likely to impact Herceptin sales, so next year's list will be interesting!
2. Avastin (bevacizumab)
Producer: Genentech (Roche)
2017 revenue: €5.6 billion
8th best-selling drug globally
Bevacizumab is a recombinant humanized monoclonal antibody and the first angiogenesis inhibitor to be approved for clinical use. It works by blocking the activity of vascular endothelial growth factor (VEGF), a protein that stimulates blood vessel generation. When bevacizumab blocks VEGF, cancer cells lose the ability to generate blood vessels, eventually becoming starved of oxygen and nutrients, resulting in a slow down or cessation of their growth.
First approved by the FDA in 2004 for combination use with standard chemotherapy for metastatic colon cancer, the list of indications for which bevacizumab is used has since been expanded to include glioblastoma, kidney, lung, breast, cervical, and ovarian cancers. Although bevacizumab has been investigated for salvage monotherapy of certain cancers, it is primarily used in combination with other drugs for the treatment of advanced or metastatic cancers. Bevacizumab was approved for use throughout the EU in 2005.
Bevacizumab is also used off-label to treat certain eye diseases that are characterized by abnormal blood vessel growth around the retina, leading to fluid leakage and separation of the retina's layers. However, this practice is likely to change, as per a recent press release from the EU Court of Justice, which outlines a new agreement that aims to reduce the use of bevacizumab and increase the use of ranibizumab (a fragment of the monocloncal antibody behind bevacizumab) in ophthalmology. Ranibizumab (Lucentis) was developed by Genentech and is marketed by Novartis.
3. Xarelto (rivaroxaban)
Producer: Bayer
2017 revenue: €5.3 billion
9th best-selling drug globally
Developed by Bayer, rivaroxaban is an oral blood thinner that is regularly used to treat blood clots. The drug was approved in Europe in 2008, and is now marketed by Johnson and Johnson in the US.
Rivaroxaban inhibits the blood coagulation factor Xa, thus blocking its role in thrombin production. Since thrombin is central to blood clot formation, a reduction in its levels both reduces the risk of blood clot formation and helps to treat existing clots. Rivaroxaban is prescribed to prevent blood clots in patients undergoing hip or knee replacement surgery, to prevent stroke and systemic embolism, to treat deep vein thrombosis and to prevent clotting and arterial hardening issues after acute coronary syndrome. Depending on the indication, rivaroxaban may be used alone or in combination with antiplatelet medicines.
Rivaroxaban has about one third of the global anti-coagulant market, and is the biggest-selling single blood thinning medicine worldwide. Its sales increased by a whopping 11% from 2016 to 2017, reflecting increased awareness about the therapeutic benefits of anticoagulants, and the aging Western population. With patent protection until 2020, Bayer can hopefully sit back and reel in the profits from its sales for a few more years!
4. Eylea (aflibercept)
Producer: Bayer and Regeneron Pharmaceuticals
2017 revenue: €4.9 billion
10th best-selling drug globally
Aflibercept was first marketed as Eylea by US-based Regeneron Pharmaceuticals for the treatment of wet macular degeneration, and as ZALTRAP for the treatment of metastatic colorectal cancer. Although originally developed in the US, Regeneron has co-developed aflibercept as a cancer treatment with Sanofi and for eye diseases with Bayer. Given the involvement of European companies in its current development, we included it in our list. Bayer received marketing authorization for Eylea in the EU in 2012.
Aflibercept is injected directly into the eye in pre-filled syringes or vials. Similarly to bevacizumab, aflibercept is a VEGF inhibitor, specifically inhibiting VEGF-A. Aflibercept can also modulate the activity of placental growth factor (PlGF). Both VEGF-A and PlGF play a role in stimulating the abnormal blood vessel growth observed in diseases such as AMD, macular edema and myopic choroidal neovascularization. By blocking these growth factors, aflibercept reduces blood vessel growth and controls fluid leakage and swelling.
Eylea enjoyed a 9 % increase in sales in 2017.
5. Lantus (insulin glargine)
Producer: Sanofi
2017 revenue: €4.6 billion
11th best-selling drug globally
Sanofi received marketing approval for Lantus throughout the EU in 2000. Lantus was the first once-daily treatment for improving glycemic control in adults and children with type 1 diabetes, and in adults with type 2 diabetes. It is an injectable solution containing the long-acting insulin analogue insulin glargine. Insulin glargine was developed by an amino acid substitution in the insulin protein chain that allows slow and continuous release of the hormone into the body.
Sanofi's patent on insulin glargine expired in most countries in 2015, and not surprisingly, a number of biosimilars have since arrived to the US and European markets. Eli Lily received marketing approval for their insulin glargine biosimilar ABASAGLAR in Europe and Basaglar in the US in late 2014 and 2015, respectively. More recently, USA-based Mylan received FDA approval (December 2017) and European approval (Jan 2018) for their insulin glargine biosimilar Semglee.
Lantus sales took a 19% dip from 2016 and 2017, and the likely explanation is that Eli Lilly's Basaglar has become the cheaper alternative of choice for top health insurance companies in the USA who are no longer willing to reimburse the cost of Lantus.
---
---
That sums up our list of 2017's best-selling European drugs. The significant impact of European biotech and pharma is illustrated by the fact that trastuzumab, bevacizumab, and rivaroxaban are all listed in the WHO's Model List of Essential Medicines. This list, which is revised every two years, contains the medications that are considered to be most effective and safe to meet the most important needs in any healthcare system.
With four out of the five drugs on our list being biologicals, it is clear that this class of medicines is here for the long haul!
---
Karen O'Hanlon Cohrt is a Science Writer and Editor with a PhD in biotechnology from Maynooth University, Ireland. She can be found on Twitter @KarenOHCohrt and you can check out her other work on her portfolio.