Based in Zurich, Molecular Partners is developing a new class of drugs that can address the complexity of cancer. At Labiotech Refresh in Zurich, CEO Patrick Amstutz shared what he's learned on the journey to take the company where it is today.
After completing a PhD at ETH Zurich, Amstutz founded Molecular Partners with a group of like-minded scientists in 2004. They were keen on translating their research into a platform that could bring a real benefit to patients in the hospital.
The technology they wanted to take forward revolves around proteins called DARPin. They act similarly to antibodies, being able to bind to a specific target. What makes them unique is that different DARPins can be combined to create molecules that bind to several different targets at once.
"We use DARPins for what they were evolved by nature to do, which is multispecific binding," said Amstutz. "We use these DARPin modules as Lego-like building blocks that we can mix and match to build a drug."
Thanks to this mix and match approach, Molecular Partners has been able to create a 'local tumor switch' that activates immune cells only within the tumor. This opens up the possibility of having a strong immune response to fight the tumor without damaging the rest of the body.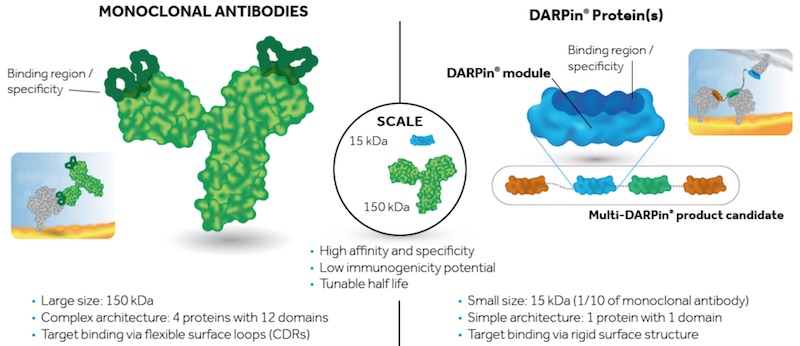 But the company started out with a completely different application. "We did not plan at that time to become an oncology company. We first wanted to test whether we could create DARPin drugs, and ophthalmology was the fastest way to proof of concept."
In particular, Molecular Partners developed a DARPin drug for wet age-related macular degeneration, a condition that impairs sight. "You inject the product into the eye of a patient and the next day you can have a readout," explained Amstutz.
Called abicipar, the drug has a key advantage over current treatments for the condition. A dose of abicipar given every three months has proven as effective as a monthly dose of Lucentis, the current standard of care.
To take this drug to market, Molecular Partners partnered with Allergan in 2012 in a deal that could bring up to €360M to the Swiss company plus royalties on the sales. "Ophthalmology is commercially now a crowded space," said Amstutz. "We, as a smaller biotech, could not have done a big chunk of [what Allergan has done] in these indications."
But while partnerships can be instrumental in bringing a drug to market, Amstutz has learned through experience to be cautious about them. In 2011, Molecular Partners entered a collaboration with Janssen to use its DARPin technology to treat lung disease. Five years later, Janssen ended it when it decided to abandon its whole respiratory pipeline for strategic reasons.
"It was a big lesson for us, that we need to control what we are doing. It also led to the clear understanding that we need to bring programs into the clinic, ideally to proof of concept before partnering, as we can then secure the value," explained Amstutz.
While the company still got funding from the collaboration, it ended up not bringing any value to patients, which is what Amstutz sees as the measure of his company's success.
This view is what led the company to enter the oncology field, which is its main focus today. "The idea of the DARPins is that we can attack multiple disease-promoting agents at once. Cancer is a complex disease, with a very high medical need, and so this idea of bringing a team to fight cancer on the molecular level made a lot of sense."
This goal became more personal when Christian Zahnd, one of the founders and previous CEO of Molecular Partners, passed away due to cancer in 2016.
Molecular Partners is now taking forward several DARPin treatments for cancer on its own. The most advanced program is currently being tested as a treatment for multiple myeloma, a form of blood cancer that often can become resistant to standard therapies. The drug candidate targets two molecular pathways that are known to be involved in the failure of existing drugs.
While partnerships have been essential for the company to move forward, the ultimate goal of Amstutz is for the company to develop and sell its own products, following the lead of other successful European biotechs such as argenx, Galapagos or MorphoSys. To achieve this goal, Molecular Partners has started building a clinical development group in the US.
"We were always in for the sustainable long-term patient value. We had in our close proximity other examples of buyouts that then stopped, so we always knew we would not want to go for a fast rate sale. We knew this is a marathon, not a sprint."