This week's biotech has its base in Leuven, Belgium. The newly-founded Aelin Therapeutics hopes to combat antibiotic resistance by doing the pharmacological equivalent of boiling an egg.  
Mission: To develop a new type of drugs to kill bacteria that are resistant to antibiotics. In the future, the drugs could also be used to kill pathogenic cancer cells, fungi, viruses and plant cells.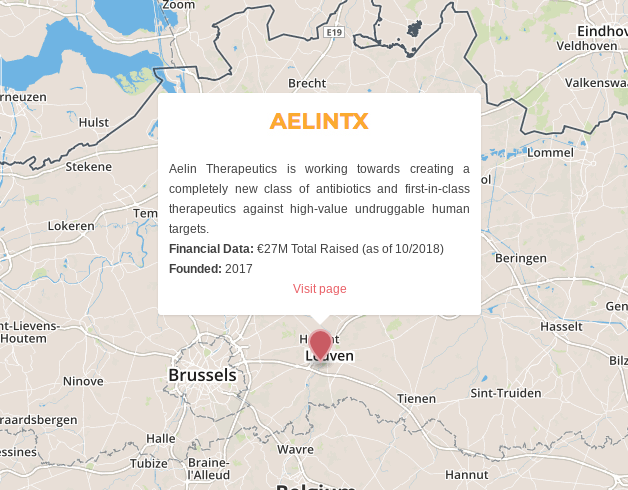 The World Health Organization reports that antibiotic resistance is getting dangerously high all over the world. Unless we can solve this problem, previously minor infections might one day be deadly in the absence of effective treatments.
Aelin Therapeutics, spun out of the Vlaams Instituut voor Biotechnologie in December 2017, has a new approach which bacteria have no defense against. That approach is to tangle up and clump the bacterial protein together. This process is similar to what happens when you boil an egg, except it uses molecular methods instead of heat.
Aelin's drugs, called Pept-ins, are specific peptide fragments of a bacterial target protein that are prone to sticking together. Once the drug enters the bacteria, it causes the target proteins to clump together, which can damage or kill the cell. In a preclinical study, this approach cured mice of a lethal bacterial infection with little toxicity to the mice.
The biotech raised €27M in its Series A funding round in December 2017, and plans to use this money to push this new approach to the clinic.
What we think: The world is in need of new approaches to treat antibiotic resistance. If this approach works, it could lighten the load of already overburdened healthcare systems fighting against resistant pathogens.
What is not known is how quickly pathogens could get resistant to this type of approach. Many conventional antibiotics use very similar modes of action to each other, so bacteria can easily become resistant to multiple drugs. However, as Aelin's technology can target a different protein each time, this might allow the flexibility needed to combat resistance to conventional antibiotics.
There are many efforts in Europe to produce novel antibiotics and antimicrobial therapies. Austrian biotech Nabriva seeks FDA approval for its new antibiotic while a new antibiotic by Swiss biotech Polyphor is entering Phase III. In addition, a drug that French company Allecra designed to directly attack the bacterial resistance mechanism has been fast-tracked to Phase III by the FDA.
Like Aelin, other companies are investigating less conventional methods of treating bacterial infections. For example, the Austrian biotech Phagomed develops treatments based on viruses that attack bacteria, called bacteriophages, and the French company Eligo Biosciences uses CRISPR/Cas9 technology to only kill bacteria with specific pathogenic genes.
---
Image from Johan Bakker, Wikimedia Commons