Onxeo is the French orphan-drug specialist in Oncology who has various pipelines for certain cancers. Now their phase I clinical trial of belinostat (trade name Beleodaq) combined with chemo for relapses in non-Hodgkin Lymphomas has shown an 89% response rate.


Originally developed by TopoTarget (a biotech in Copenhagen) Belinostat is now under Onxeo's portfolio (along with its Orphan drug designation and Fast Track Approval by the FDA) following a merger with BioAlliance Pharma last year.
Belinostat (trade name Beleodaq) has already been shown effective to treat relapses in Ovarian cancer when combined intravenously with chemotherapies (in this case carboplatin and Paclitaxel). Onxeo has therefore been looking to develop Beleodaq for use in relapses of non-Hodkin cancers too, such peripheral T-cell lymphomas (PTCL).
June results published in the Journal of Clinical Oncology showed Beleodaq achieved a 25.8% objective response rate when used alone to treat PTCL in the phase II 'Belief' trial. However, in a new phase I study, this response rate rocketed up to 89% (3.5 times higher!) when combined with 'CHOP' chemotherapy.

'CHOP-Chemotherapy' is the standard chemo program involving several drugs for non-Hodgkin's Lymphoma.  Graham Dixon (CSO at Onxeo) explains that currently, the CHOP chemotherapy alone is the first-line attack for relapses in lymphoma. However, given the nature of this type of cancer, the prognosis with this treatment is pretty poor, with a big demand for combinatorial therapies to work more effectively.
Belinostat is therefore designed to work with CHOP by acting as a pan-Histone deacetylase inhibitor. This combination works to tackle cancer by inhibiting cell proliferation and angiogenesis whilst also promoting apoptosis of cancer cells. Indeed, the trial results showed that 72% of the patients enrolled under the 'Bal-CHOP' program achieved disappearance of all signs of the cancer.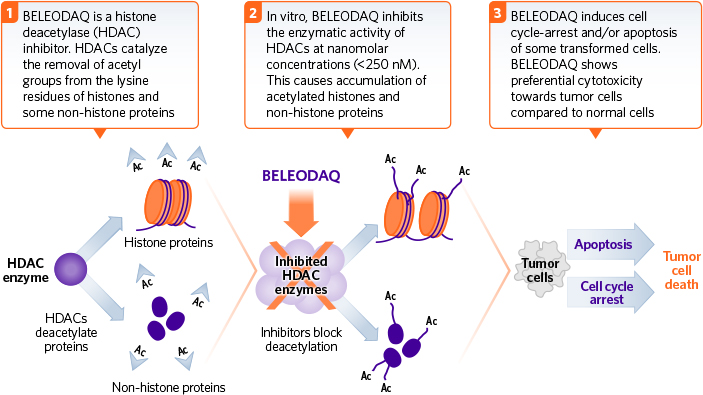 Belinostat/Beleodaq was responsible for the €23.3M milestone payment from Onxeo's US partner Spectrum Pharmaceuticals last year, which is also eager to see the development of a novel first-line therapy for PTCL. Indeed, the initial deal with Spectrum actually projected a €300M payment plan for Belinostat's development, and that's not even counting the royalties from future sales.
The Phase I results have been scheduled for presentation at the 57th American Society for Hematology (ASH) annual meeting in Orlando next month. The phase III trials of Beleodaq for PTCL indications are also be planned to go ahead in 2016 with collaboration from Spectrum.
A 72% complete response rate is extremely high, and this powers Onxeo forward, who are eager to push Beleodaq's indication from a second to first line therapy for relapse and refractory PTCL.