The FDA has approved Novartis' CAR-T therapy Kymriah, opening the way for a new generation of cell therapy treatments against cancer. 
Novartis' Kymriah (tisagenlecleucel), formerly known as CTL019, has become the first gene-modified cell therapy approved in the US. The FDA has approved the therapy for relapsing B-cell acute lymphoblastic leukemia (ALL) in children and young adults, who account for 60% of cases.
The therapy consists of an individualized, one-time treatment that has shown an 83% remission rate in clinical trials with patients that have not responded to standard treatments. Novartis has set the price at $475,000 (€400,000) and is working with US public health centers to support access to the therapy and insurance coverage by charging only those patients that respond to the cell therapy in the first month.
The price, though high, is at the lower end of previous estimations, that went up to $750,000. The reason is that the therapy requires individual manufacturing of the therapy using the patient's own T cells. The cells have to be sent to a specialized center in New Jersey, where they are engineered to express a chimeric antigen receptor (CAR) that makes them attack the CD19 antigen found in malignant B-cells.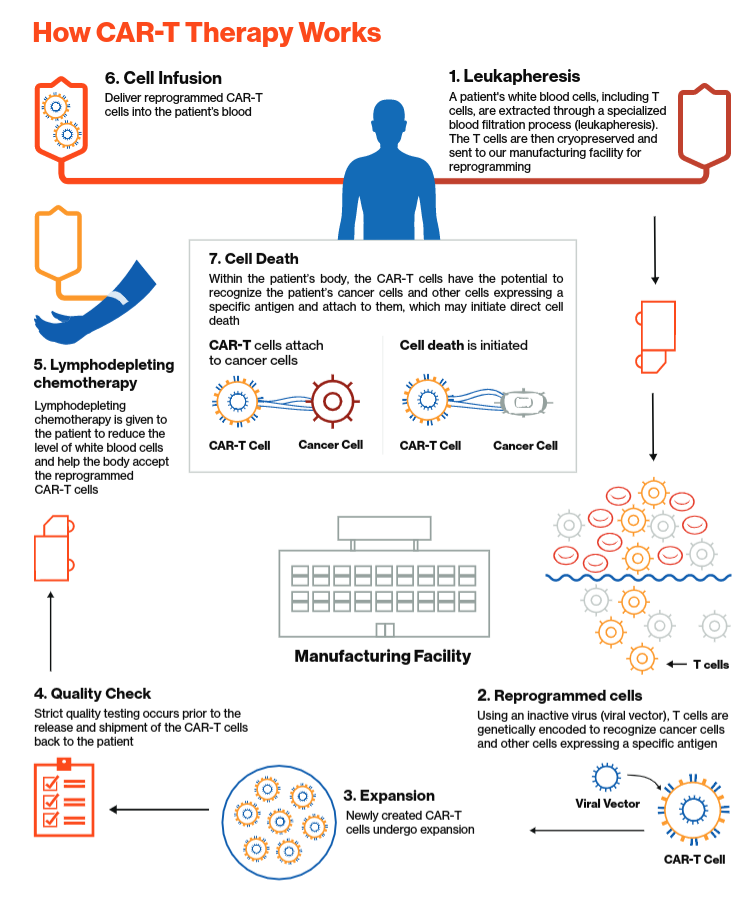 Despite the big promises of the therapy, side effects are still a concern, especially given the accelerated approval of the therapy hasn't allowed for long-term patient follow-up. Clinical trials showed that 49% of the patients treated with Novartis' CAR-T therapy Kymriah suffered strong cytokine release syndrome (CRS), which has been responsible for several deaths in trials run by Novartis' closest competitors, Kite Pharma and Juno Therapeutics.
This approval is certainly a historic event that will precede that of many more cell-based therapies. The next will likely be for Gilead, which just two days ago announced the €10Bn acquisition of Kite Pharma, currently waiting for an FDA decision on its CAR-T candidate KTE-C19. Novartis is also preparing to file new applications to expand the indications of Kymriah to diffuse large B-cell lymphoma, in the US and Europe later this year, and in the rest of the world in 2018.
The International Society for Cellular Therapy (ISCT) expects this approval to cause ripple effects in the cell therapy field, boosting investment in products at all stages of development. This is great news for companies like Cellectis or Celyad, which are developing allogeneic CAR-T therapies that are manufactured from donors — a feature that could make the therapy faster and, most importantly cheaper.
For more info on CAR-T and the state of the field, read our review.
---
Images via Meletios /Shutterstock; Novartis