The European Commission has approved Truxima, the world's first biosimilar monoclonal antibody (mAb)  with an oncology indication.
Based in South Korea, Celltrion Healthcare is setting foot in the European oncology market with the approval of Truxima, a biosimilar to Roche's Mabthera (rituximab). The European Commission has approved the antibody for non-Hodgkin's lymphoma, chronic lymphocytic leukemia, rheumatoid arthritis (RA), granulomatosis with polyangiitis, and microscopic polyangiitis.
Truxima, like rituximab, is a mAb that targets the CD20 molecule found on the surface of most B cells. This cell type is affected in many hematological malignancies and plays a role in several immune related diseases such as RA.
While two phase I studies revealed the equivalence of treatment with Truxima compared to rituximab, phase III studies are ongoing in patients with RA, advanced follicular lymphoma and low-tumor-burden follicular lymphoma (LTBFL). So far, the results have shown highly similar efficacy and safety profiles to those of rituximab.
According to László Gulácsi, Head of Department of Health Economics, Corvinus University of Budapest, the budget savings across the 28 countries of the EU could be around €570M over an initial three-year period.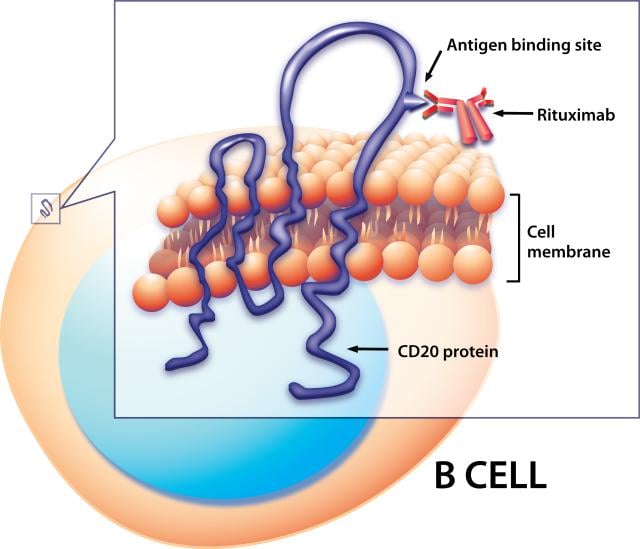 Representing the most advanced market for biosimilars, the EU counts with 23 biosimilars that mimic 7 different active substances. It is expected that the market will inflate 10-fold over the next 5 years, as several patents for biological medicines will expire and the American market is opening its doors.
In 2013, Celltrion got the first-ever approval for biosimilar mAbs in the EU for its products Remsima and Inflectra, which both mimic the mAb infliximab, an important RA drug initially marketed by J&J.
Celltrion is also planning on marketing Truximab outside the EU and partnered up with Isreal's Teva Pharmaceuticals in a €150M ($160M) up-front deal last year to commercialize both Truximab as well as Herzuma, Celltrion's biosimilar to Roche's Herceptin, in the US and Canada.
Roche's blockbuster drug will now have to compete with the cheaper Truxima. However, Celltrion barely came in first, while more competition is on the way: Novartis' daughter company Sandoz applied for European marketing authorization for its rituximab biosimilar in May 2016 and both Pfizer and Amgen have their biosimilars in development.
The biosimilar market is definitely growing at fast pace, a topic reviewed by the consultant Joseph Pategou here. We are excited to see what the future will bring for these drugs and how they will impact healthcare costs. 
---
Images via shutterstock.com / vitstudio and CC 2.0/ NIAID