CRISPR Therapeutics and Vertex Pharmaceuticals are taking action to start a first clinical trial with CRISPR/Cas9 in Europe in 2018.
The blood disorder β-thalassemia could soon be the first human disease to be treated using CRISPR/Cas9 technology in Europe. CRISPR Therapeutics and its partner Vertex Pharmaceuticals have announced the first candidate from their collaboration that will go into clinical trials and it's slated to make its debut next year.
The team has already submitted an application for a Phase I/II in Europe to test the gene editing therapy CTX001 in humans for the first time, and the trial is expected to begin in 2018. A second application for a trial in the US to test CTX001 in another blood disorder, sickle cell disease, is planned for 2018.
The therapy will be co-developed and co-commercialized by CRISPR Therapeutics and Vertex, which will equally share R&D costs and profits worldwide. CTX001 is the first genome editing treatment of up to six that Vertex is entitled to license as per the agreement it signed with CRISPR Therapeutics back in 2015.
CTX001 is what is known as an ex vivo CRISPR therapy. This means that the gene editing is done outside of the patient's body. Hematopoietic stem cells are harvested from the patient and engineered in the lab to produce red blood cells with high levels of fetal hemoglobin (HbF). Newborns naturally produce this protein, which can bind oxygen much better than the adult form of hemoglobin. The engineered cells are then transfused back to the patient, where they can treat genetic disorders that impair oxygen transport in the blood, such as β-thalassemia and sickle cell disease.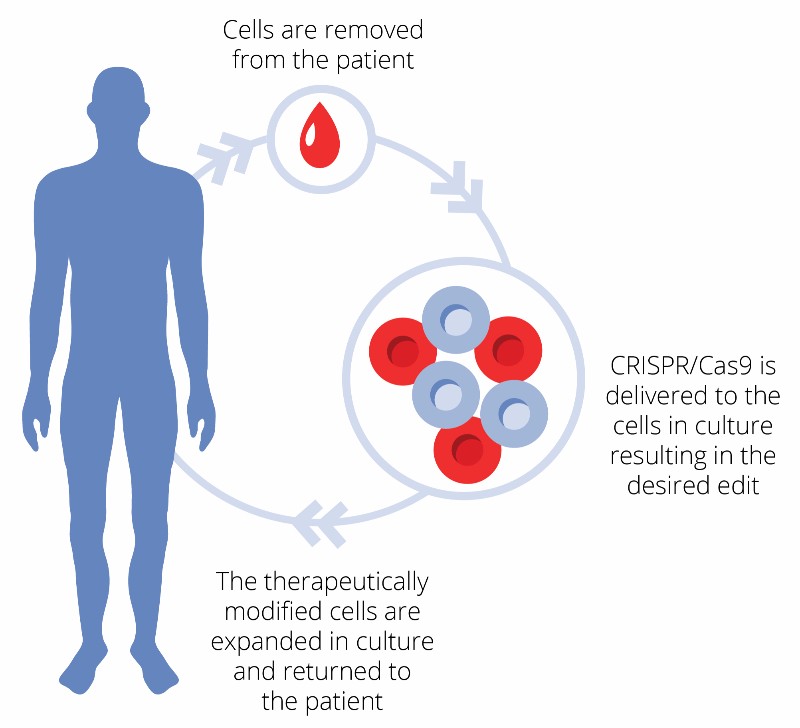 CRISPR Therapeutics and Vertex presented preclinical data supporting the efficacy of the therapy last weekend at ASH 2017. The researchers showed that they were able to consistently edit over 80% of human hematopoietic stem cells using CTX001 and that their infusion into mice models resulted in an increased production of fetal hemoglobin. The team is now ready to test if these results are consistent in humans.
If the EMA approves the application, CRISPR Therapeutics will be the first to run a clinical trial in humans with CRISPR/Cas9 genome editing technology in Europe. The gene editing company, based in Basel, Switzerland, and co-founded by CRISPR/Cas9 co-inventor Emmanuelle Charpentier, is one of the most advanced players in the development of human therapeutics based on CRISPR technology, along with Editas Medicine and Intellia Therapeutics, which are also getting ready to start clinical trials later next year.
Editas Medicine was co-founded by Feng Zhang from the Broad Institute, which has been battling Emmanuelle Charpentier and Jennifer Doudna over the ownership of the patents that protect the use of CRISPR in humans. Unlike in the US, CRISPR Therapeutics seems to be on the winning side of the patent dispute in Europe. And with the start of a first clinical trial in Europe and the US, CRISPR Therapeutics might be getting ahead of its competitors in a field where everyone has very high expectations.
However, the clinical trial with CTX001 will not be the first trial with CRISPR/Cas9 in humans, though it is the first to be sponsored by a company. In China, academic researchers have been running these clinical trials for over a year now.
---
Images via CRISPR Therapeutics; World Health Organization