Immunicum just received FDA approval to start clinical trials in the US for a therapy that could overcome the challenges of T-cell therapies and target virtually any injectable solid tumor.
Immunicum is a biotech from Gothenburg, Sweden, that focuses on immuno-oncology with a different approach from most companies. Instead of T-cells, the company engineers dendritic cells, thus avoiding the high toxicity risks of T-cell therapies like CAR-T. Now, the FDA has cleared its Investigational New Drug (IND) application that allows the start of Phase II trials on American soil.
This trial is already treating and recruiting patients in Europe suffering from metastatic renal cell carcinoma. Worldwide, 273,000 people every year are diagnosed with this cancer affecting the kidney's nephrons, for which no effective long-term treatments are available.
Immunicum's unique treatment, Intuvax, consists of activated dendritic cells derived from healthy donors that are injected into the tumor. The trick is that once in the tumor, these cells can recruit the patient's own immune system to respond against a whole set of each tumor's neoantigens.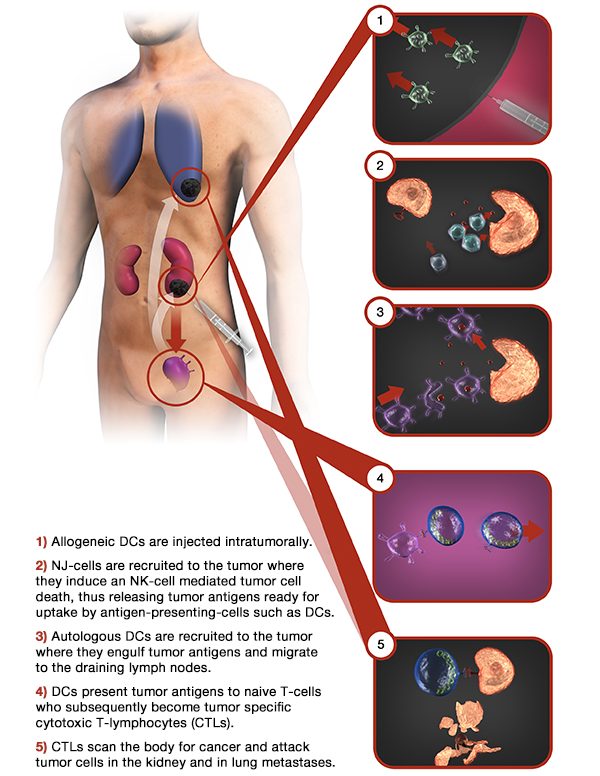 By using allogeneic cells instead of autologous transplantation, manufacturing can be easily scaled-up to incur lower costs. In terms of toxicity, Intuvax still hasn't shown any adverse effects in any treated patients. However, its coolest feature is that, in theory, this strategy could be applied to treat any injectable solid tumor. This is a big deal since targeting solid tumors is still a huge challenge in immuno-oncology that has led most biotechs to focus on treating blood cancer instead.
Immunicum is already testing these claims with two additional trials for Intuvax in hepatocellular carcinoma (HCC), and gastrointestinal stromal tumors (GIST), both currently in Phase I/II. Additionally, the company is developing a second dendritic cell therapy, Subcuvax, and a protocol to improve T-cell therapy by prolonging T-cell survival in vivo, both currently in pre-clinical stage.
As one would expect, this is not the only biotech interested in harnessing the power of dendritic cells to stimulate the immune system. Medigene, in Germany, is running Phase I/II trials with a dendritic cell vaccine for metastatic prostate cancer and acute myeloid leukemia (AML). Still in pre-clinical stage, Stimunity uses virus-like particles (VLPs) to deliver a molecule that activates dendritic cells.
The products are definitely promising; with an IND from the FDA the company can now expand its clinical trials and test if its technology is truly as good as it claims. If so, this innovative approach has the potential to take over a big segment of the cancer market, which hit a whopping €100B ($107B) in 2015.
---
Featured image from Stimmunity; figure from Immunicum