UK-biotech KaNDy Therapeutics closed a £25M (€28M) series C round to help finance the upcoming Phase IIb trial of its lead candidate for treating symptoms of the menopause.
Unlike other therapies aimed at treating the same symptoms, KaNDy's drug (NT-814) is not based on hormone replacement therapy, which can take a long time to be effective and has also been associated with side effects such as blood clots. Instead, it targets the central nervous system and blocks the action of the neurokinin-1 and 3 receptors. Neurokinin-1 blockers have already been developed to target nausea and vomiting associated with chemotherapy, and also have anti-anxiety and antidepressive properties.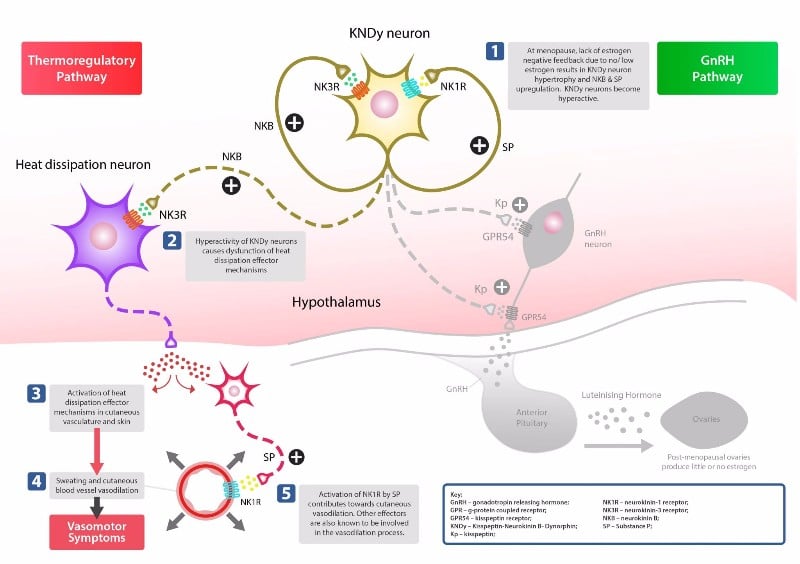 In a proof of concept trial in the US, the results from which were announced in June, the drug was tested once daily for 2 weeks in 76 women experiencing menopausal symptoms. At the end of the 2 weeks, using the most effective dose the number and severity of hot flashes were reduced by 47% and 34%, respectively, in those treated versus those given placebo. Night time awakenings were also cut by half in women taking the drug compared with those on placebo.  
These initial findings prompted the planning of the upcoming Phase IIb trial, due to take place late 2018-early 2019, which the company hopes will propel the drug into Phase III.   
KaNDy is led by Mary Kerr, who worked at GSK for almost 30 years before starting a spin-out company called NeRRe to focus on conditions where the neuronal reflex is dysfunctional. KaNDy was itself a spin-out from NeRRe in 2017, created to develop the dual neurokinin-1 and 3 blocker further. Kerr now heads up both companies. 
"We are delighted by the level of enthusiasm and financial support we have received from our investors," commented Kerr. "Our investors and the KaNDy management team are united by the common belief that NT-814 has the potential to be a transformational treatment for the millions of women worldwide who suffer debilitating symptoms of the menopause."
Earlier this year there were rumors KaNDy was in acquisition talks with Allergan, but no further information about the possible $400M (€322M) deal has been released to date.
---
Images via Shutterstock & KaNDy