Galapagos just disclosed new good results of its Phase 2B study in rheumatoid arthritis. The drug could be a lifesaver for AbbVie, which is facing patent lost of its most profitable drug Humira.
Mechelen, Belgium-based Galapagos NV announced today that at week 24, patients treated with the selective JAK1 inhibitor filgotinib showed further improvement in signs and symptoms of rheumatoid arthritis activity. Impressing results are showing that up to 64% of patients achieved remission or low disease state after 24 weeks of treatment, with good tolerability of the treatment.
Galapagos' filgotinib is an oral treatment, selectively inhibiting the activity of the Janus kinase 1. By doing so, the inhibitor blocks cytokine signaling and related inflammation that lead to diseases such as rheumatoid arthritis or Crohn's disease. In this study, Galapagos' treatment has been tested in 594 patients with moderate to severe rheumatoid arthritis who showed an inadequate response to the standard treatment methotrexate.
More than the goose that laid the golden eggs for Galapagos, filgotinib could be a critical asset for the American giant AbbVie. In February 2012, AbbVie and Galapagos entered an agreement to co-develop filgotinib. Under the terms of the agreement, AbbVie paid an initial upfront payment of $150 million (€138m) for rights related to the global collaboration. Upon successful completion of the Phase II study, AbbVie will have the opportunity to licence the program for a one-time fee of $200 million (€184m). If so, AbbVie will assume sole responsibility for Phase III clinical development and global manufacturing, leaving Galapagos with additional milestone payments potentially amounting to $1.0 billion, double-digit royalties on net sales upon commercialization and co-promotion rights in the Benelux region… roughly a Jackpot for Galapagos!
Given the last events, it's now clear that AbbVie has to buys filgotinib's rights. The pharma company is facing the patent loss of its Humira drug, which is accounting for more than half the sales of the company as shown in the following chart from Bloomberg.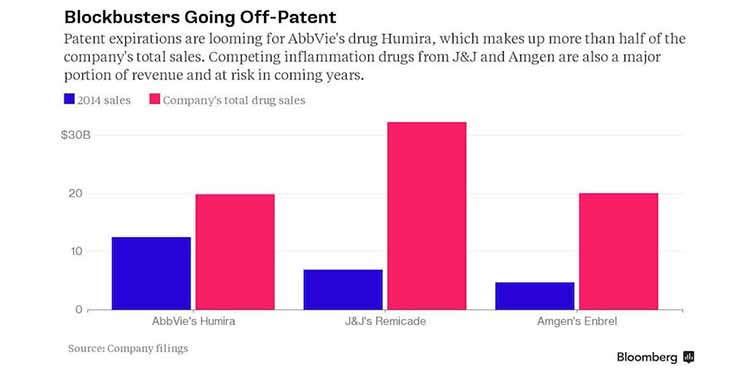 Even if AbbVie has its own JAK1 inhibitor called ABT-494, it should not be sufficient to counter the growing appetite of Humira competitors J&J and Amgen. Filgotinib is more advanced than ABT-494, ( Phase II data aren't due until late 2015) and AbbVie has to take a decision on filgotinib in late September.
If AbbVie didn't take its chance now, J&J could make a rapid move as the company has already shown a great interest in Galapagos. The bets are open but the result is almost certain now. Investors seem to enjoy the Galapagos' saga as its market price just reached a new record, giving to the company a market capitalization passer over the €2 billion.