After Praluent, Sanofi and Regeneron have now scored their next drug approval with dupilumab, an antibody for the treatment of atopic dermatitis.
With three placebo-controlled clinical trials enrolling a total of 2119 adult participants, Sanofi and its partner Regeneron were able to convince the FDA of their new biological for the treatment of atopic dermatitis. The product of this expansive effort comes with a hefty price of €34K ($37K) a year, projected to rake in a whopping €2.8B ($3B) in sales.
Dupilumab is a monoclonal antibody co-developed by Sanofi and Regeneron. The antibody binds to the alpha-subunit of the IL-4 receptor and thereby modulates the signaling of the cytokines IL-4 and IL-13, which play a major role in immune reactions, such as those implicated in atopic dermatitis, asthma and allergies. The antibody represents the first drug targeting the IL-4/IL-13 pathways.
The antibody is indicated for the treatment of moderate to severe atopic dermatitis, a chronic skin condition that causes intense itching and rashes. For people with severe forms of the disease current treatments provide little relief, leading to sleeplessness, depression and social anxiety.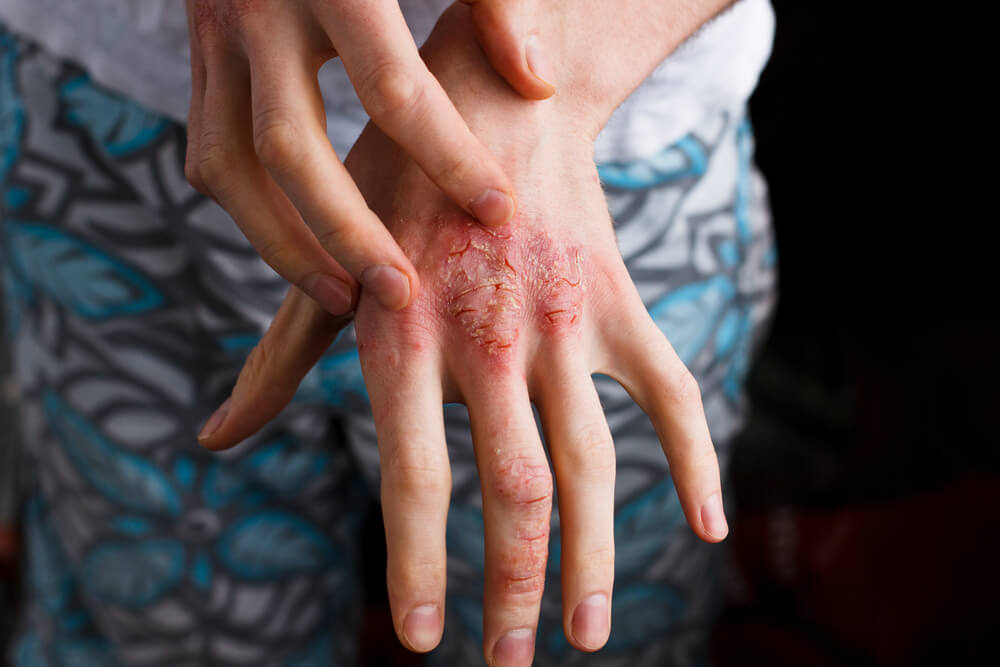 The new treatment was able to deliver clear or mostly clear skin in 36% to 38% of patients, compared with 8% to 10% of placebo patients, and is expected to be able to change the life of patients that have been suffering from the disease their whole life. So far, there are few available treatments for this condition such as topical corticosteroid therapy, which doesn't work well for all patients.
With little competition in the field, dupilumab has good chances of becoming a new blockbuster drug. Sanofi and Regeneron are clearly counting on this after the recent disappointment of their cholesterol drug Praluent, which is currently facing a major lawsuit from Amgen due to patent infringement.
Yet, the companies might not be the only players in the field for long. Danish Leo Pharma recently teamed up with AstraZeneka to develop a monoclonal antibody targeting IL-13. The antibody has already completed Phase II trials for atopic dermatitis. Ziarko is also working on a small molecule that targets the histamine H4 receptor, which is currently in phase II clinical development for atopic dermatitis.
Although the price of dupilumab is high, it is actually still below that of commonly used biologicals such as Humira and Enbrel used to treat skin conditions like Psoriasis and which carry a price tag of more than €46K ($50K) a year. In fact, Sanofi and Regeneron actually reached out to benefit managers like Express Scripts, as well as to the Institute for Clinical and Economic Review (ICER) to negotiate over the new price.
This is really a great example of how it should work. Our plans would obviously like a lower price. [Regeneron's] shareholders would like a higher price. I think the fact we disappointed everyone probably means this came in where it should have,"  commented Steve Miller for Forbes, CMO of Express Scripts and loud critic of high drug prices.
The companies also plans to further extend their new 'breakthrough' drug into the asthma field, for which two Phase II/III studies have already been finalized. "We are preparing the filing [to the FDA] as we speak," said Gianluca Pirozzi, Sanofi's head of dupilumab development. The EMA is still mulling its decision regarding dupilumab, though patients in the UK will be able to access it before it hands one down.
Images via shutterstock.com / Ewais and Ternavskaia Olga Alibec