There are so many exciting discoveries in scientific research that could be used to cure, feed and fuel the world, but there is a giant gulf between science and business. Tech transfer aims to bridge the gap! I interviewed a number of experts in the field to tell you how.
Since the first modern biotechnology company, Genentech, was founded in 1976, the biotechnology industry has grown to become one of the major engines of scientific innovation. The importance of innovation in biotechnology has brought the issues of intellectual property (IP) right and technology transfer (TT) into sharp focus.
How do scientists manage to effectively bring their discoveries to the market? More generally, how the transfer of knowledge from an academic institution to industry is working nowadays in Europe? To help us to answer these questions, we had the opportunity to interview the following TT leaders from all across Europe to get their expert view on the subject:
How is technology transfer defined?
Broadly, TT could be defined as "bridging the gap between bench and bedside" suggests Volker Cleeves. According to him, the TT has two goals. The first one is to "be successful or effective in transferring the technology to application for the benefit of the user in our case (mostly medical health care) patients". The other goal is to "be profitable to generate current income to compensate the costs (mainly patent costs)".
More specifically, TT "covers a process of protecting know-how and research results through IP rights; this is followed by an entrepreneurial value-creation approach, either through creative partnering or spin-off companies," explains Johan Cardoen.
Carolyn Porter elaborated, "the transfer of IP should facilitate its further development via collaborations, partnerships and the formation of new companies to exploit the IP."
Finally, Tanguy Confavreux added that it is also a "translation work," meaning that "the main job in TT is to translate the information for people from two different worlds – science and business – so they can understand each other".
With the information given by the four experts, we can draw the following figure in order to depict the traditional model of university TT: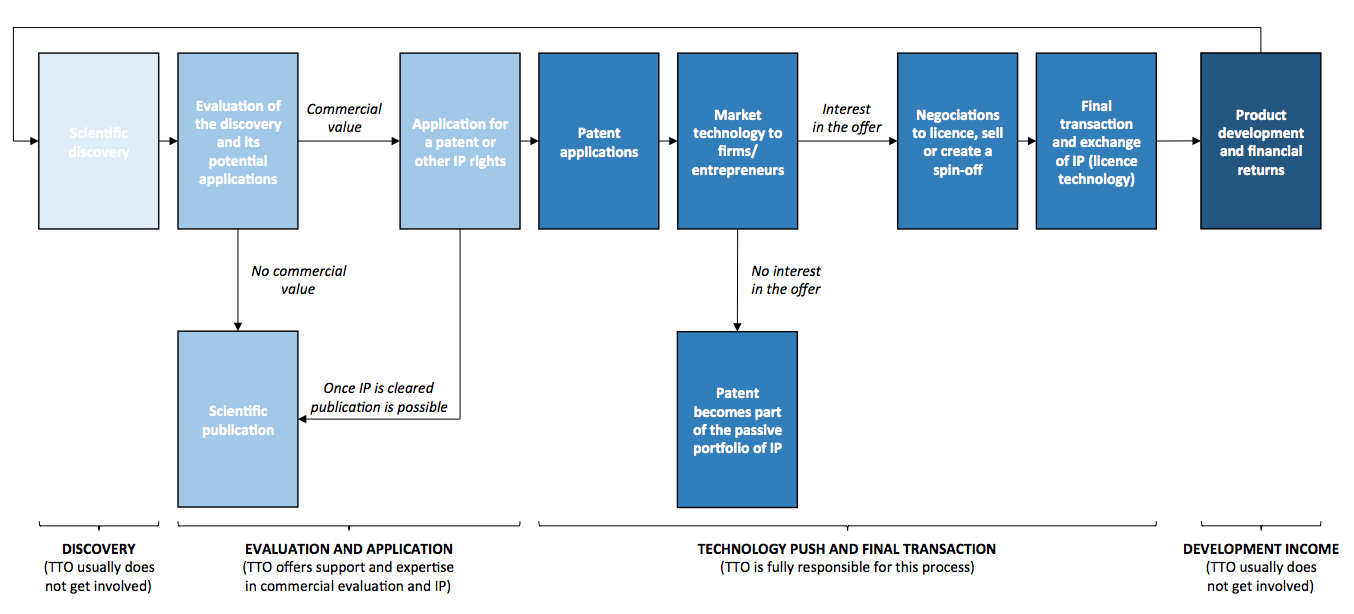 Why is it important to have connections with the industry world?
The Technology Transfer Office (TTO) at Heidelberg has a holistic approach that means that it does not wait for the scientists to disclose an invention; rather, the office is strongly involved in the entire scientific work on the campus. The office takes the initiative to discuss potential medical applications of a new technology with the scientist who developed it.
As an integral part of its effort, the office gives talks and organizes seminars on the subjects of patent applications, financial management, and career planning (e.g. entrepreneurship and start-up foundation). The key to bringing a new technology to market is industry cooperation and personal contacts. Without networking within the industry, a scientist would be easily ignored and fail.
The same strategy seems to be used by the VIB, which Johan Cardoen says is well-integrated in the Belgian biotech/life sciences ecosystem. Indeed, he highlights the fact that "close connection to industry is crucial for successful technology transfer" because "it will result in proactive business development and enables to identify industry trends at an early stage".
Oxford University goes further: it runs an incubator facility focusing on software ventures. For Carolyn Porter, "industry connections are critical for many parts of their role. Engaging with advisors and service providers in relevant industries enables would-be companies to grow the value of their technologies and work with small and large companies to license and partner their technologies.  Another group of important industrial stakeholders is composed of investors who fund companies established with our technologies."
Startsquare is the online one-stop-shop that connects science projects (from labs, companies or start-ups) with those who will be able to bring them to the market. The company's goal is to make as many connections between industry and academia as possible to encourage academics to innovate and develop their findings to marketable products.
What is the state of tech transfer in Europe? How can it improve?
According to Tanguy Confavreux, the technology transfer field in Europe "is well-founded but may seem a bit nebulous because there is a constellation of interlocutors among all the countries and all the institutions". Nevertheless, he added that "there is a lack of simplicity that is being worked on; Startsquare wants to provide a solution, but this is the major axis of improvement."
Johan Cardoen sees "additional opportunities emerging from co-operations between TTOs". Indeed, he is a firm believer of a "combination of asset strategy," as he believes that "not all IP/know-how should come from one research organization. Combinations will lead to a stronger business case and increase the value creation potential. VIB is actually exploring this approach."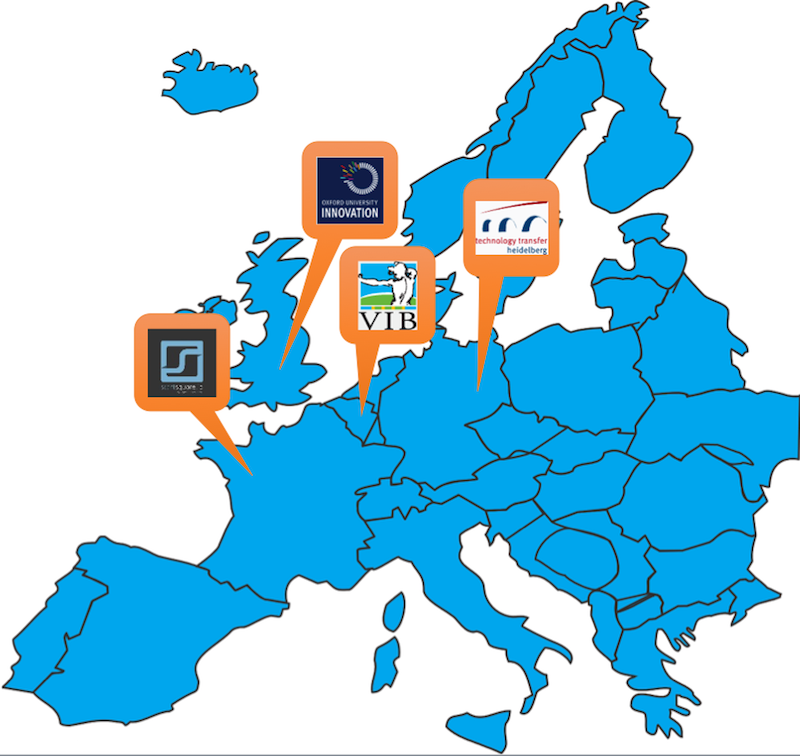 For Carolyn Porter, "greater translational funding enables TTOs to increase the technology readiness levels of their projects before seeking partners. Increased venture funding directed at early stage ventures can facilitate the creation of a technology industry that can operate at similar scale to the US."
Volker Cleeves concluded by saying that "it seems to be profane: we need more public and private money for projects at early stages (incubator, accelerator, proof of concept fonts, etc) and more courage to take on risks from the industry side. It's also necessary to be prepared to pay for the in-licensing at normal market terms without disproportionate down-negotiation. The more fair cooperation we have, the more effective and successful the cooperation partners are."
Our discussion with these experts brought home the point that TTOs play a crucial role in making fundamental research from universities and institutions useful to the economy and society by protecting and licensing out IP rights, as well as facilitating collaborative research with industry and investors. Most importantly, it is clear that, while the US remains the leader in technology transfer, Europe is catching up.
---
Featured Image: Maxx-Studio/shutterstock.com
Figure 1 courtesy of the experts
Figure 2 by the author
Figure 3 by the author, Europe Map P0/Pixabay
---