Developed by TiGenix, Alofisel is the first stem cell therapy made out of donor stem cells to receive a marketing authorization in Europe. 
The European Commission has approved Alofisel (darvadstrocel), a stem cell therapy to treat complex perianal fistulas — one of the most disabling complications of Crohn's disease. The cell therapy represents an alternative to multiple surgeries for patients with Crohn's that have shown an inadequate response to at least one conventional biologic therapy.
Previously known as Cx601, Alofisel was developed by the Belgian biotech TiGenix and is licensed to the Japanese pharma Takeda. The marketing authorization comes with a €15M milestone for TiGenix, which will now proceed to transfer the authorization to Takeda.
"The process will take a couple of months," Eduardo Bravo, CEO of TiGenix, told me. "Then Takeda will launch Alofisel in EU countries as it negotiates reimbursement."  
Alofisel makes use of adipose-derived stem cells sourced from donors through a liposuction. These cells have immunomodulatory effects that have been tested in a Phase III trial with over 200 patients. The trial studied whether the stem cell therapy was able to close all fistulas and leave no remaining infection sites visible with MRI.
"With such strict efficacy criteria, 50% of patients closed all their fistulas with a single dose of Alofisel," says Eduardo Bravo. A single dose of Alofisel also showed 42% more efficacy than the treatments Crohn's patients were receiving — the most common being a combination of Infliximab and immunomodulators.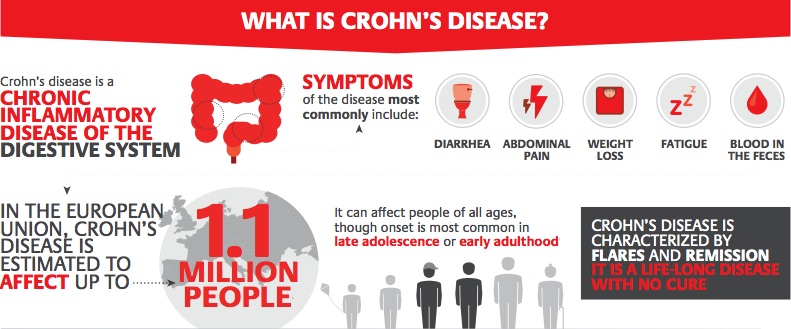 Another Phase III study was started last year to seek approval in the US, with results expected in 2020.
The approval of Alofisel was also one of the conditions Takeda established for its offer to acquire TiGenix, announced in January. The companies are now waiting to receive approval from the authorities to start the takeover process, which according to Bravo is due to happen in a matter of days.
---
Images via Elena Pavlovich; TiGenix