Labiotech recently asked several biotech experts the same question about tackling cancer, for a special newsletter to commemorate World Cancer Day on February 4.
The 2023 theme is Close the Care Gap.
The question, what are the biggest opportunities to improve cancer care, brought responses from Versameb CEO, Klaas Zuideveld; ImaginAb CEO, Ian Wilson; ISA Pharmaceuticals chief scientific officer, Kees Melief; Leucid chief scientific officer, John Maher; CellCentric CEO, Will West; iOnctura CEO, Catherine Pickering; and Precirix consulting CMO, Jennifer Wheler.
Will West, CEO, CellCentric
Quality of life improvements. Feeling well, patients being able to live lives. Seeing more interventions that reach wider communities; some of the new treatments and therapies are expensive, complex, difficult to deliver. They are only applicable to the relatively fit. There is a need for 'real world' drugs, alongside some of these great advances.
Catherine Pickering, CEO, iOnctura
New technologies are promising step-wise changes in cancer care. Liquid biopsies which give a range of information about a tumor in a simple non-invasive way which is better for the patient than an invasive biopsy. They can be used to detect circulating tumor cells, or DNA, which provide an effective tool in cancer diagnosis and prognosis, enabling earlier therapeutic intervention and monitoring.
The potential opportunity of leveraging AI in image analysis is also exciting. AI algorithms can be used to increase throughput through medical scanners and then to analyze MRI, PET an CT scan images faster, more accurately and in a manner that provides insights across populations that cannot be seen by a human eye.
John Maher, CSO, Leucid
Despite considerable ongoing effort, the number of individuals who die of cancer continues to increase year on year, both in the developed and the developing world. The vast majority of these deaths afflict individuals with solid tumors, so that is the area where need is greatest.
In assessing opportunities for improved care, a good place to start is to consider how we can prevent more cancers in the first instance. This is particularly apt given the consistent upward trend in cancer diagnosis worldwide. Success calls for initiatives that help to inform, encourage and even incentivize the public to reduce activities linked to cancer development and instead to embrace healthier lifestyles. Mature decision-making by governments is vital as such interventions will incur short-term costs, but with the ultimate promise of a healthier population and longer-term net pay-off to society.
We also need to accept that access to standard cancer care is inadequate for most of the world's population. Solutions have also been proposed to begin to address this inequity, but implementation will require globally oriented commitment from governments and from other stakeholders.
Late cancer diagnosis remains a very significant problem and this has been exposed starkly during the covid pandemic. In the U.K., it is sobering to note that over a third of cancers are diagnosed in Accident and Emergency departments – an egregious statistic that highlights a pressing need for education at multiple levels. Potential impact is illustrated by the fact that patients with early-stage disease have a survival rate of up to 13 times greater than those diagnosed with advanced cancer. In addition to education, the development and rollout of next generation screening tools such as liquid biopsy offers the promise to detect cancer at an earlier stage, where curative intervention is much more likely.
Another source of great opportunity stems from the profusion of new technologies that are now available. Better outcomes are promised due to advances in surgical technique, such as robotic approaches that improve precision and technologies that identify malignant cells at otherwise healthy-looking surgical margins.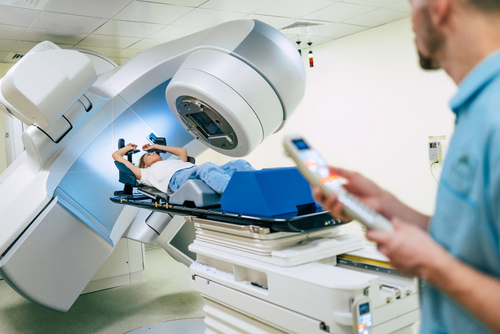 Precision radiotherapy technologies allow the delivery of radiation selectively to tumor deposits with greater accuracy, enhancing both efficacy and safety. Our expanding capacity to interrogate the genetic and molecular blueprint of tumors offers the potential to better match patients to the increasing array of novel and personalized therapies available. Artificial intelligence and machine learning technologies provide the opportunity to improve diagnosis and treatment selection at a global level, as well as accelerating the drug discovery process.
Over-treatment can be as harmful for patients as under-treatment and both of these technologies can help physicians to strike the balance right more often. In response to the second question in this list, I detail the expanding role played by yet another technology, immunotherapy, in the management of cancer and I am confident that this will continue to provide tremendous new opportunities for patient benefit. Telehealth is another impactful technology that increasingly enables the remote provision of more standardized high quality cancer care while the advent of nanomedicine allows new ways to improve both cancer imaging and drug delivery to malignant lesions.
Finally, I believe that a further major opportunity will arise from the accelerated delivery of new cancer drugs into the clinic, streamlining and standardizing the regulatory process across the globe so that disruptive treatments can get to patients faster.
Kees Melief, CSO, ISA Pharmaceuticals
Whole genome sequencing of the cancer cells early after diagnosis of cancer for each patient. Installment of personalized targeted drug and immunotherapies based on the mutations found in the cancer cells of each patient. Application of these therapies as early in the disease course as possible.
Jennifer Wheler, consulting CMO, Precirix
The biggest opportunities to improve cancer care lie in the development of regulatory pathways for personalized, "n-of-one" combination approaches. While biomarker-driven selection of patients has significantly improved outcomes, most patients will eventually develop resistance, and the great majority need combinations of drugs upfront, to prevent resistance from developing – if not for cure, than for more long term, durable responses. While the momentum and investment in the development of novel therapies needs to continue, it is also true that much can be made of the drugs that are currently available and approved.
Rather than relying on the few academic centers where patients can be treated "off label" with combinations selected for their specific molecular and "omic" results, improvement in outcomes will be significant when this model can be adopted within a regulatory structure, and when access to results of these treatments can be made available.
In addition to a focus on improvement of cancer therapies, it is important to improve cancer care on a society level with a broader network of palliative care centers and access to in-home palliative care. Supporting improvements in end-of-life care, and bringing this stage of life into more mainstream conversation is critical. To alleviate suffering and empower choice for end stage cancer patients is a societal duty just as working towards equal access to affordable cancer drugs is an urgent priority.
Ian Wilson, CEO, ImaginAb
Cancer diagnosis must be early and accurate and determining the right treatment must be made more accurately For example the use of liquid biopsy based assay and whole body imaging are complementary tools to aid early diagnosis and staging of cancer, along with determining correct treatment.
Why this is a great opportunity is that many drug only work on specific subpopulations of cancer patients due to the phenotype of the tumor, location of the tumor and previous treatment cycles. For example the great success of immuno-oncology has shown great improvement in lifespan but only works in a subset of patients. By being able to select and monitor patients to determine when and if they should receive cancer immunotherapy and to highlight adverse events more quickly would improve management of these cancer patients.
ImaginAb Inc has developed an in vivo imaging agent (CD8 ImmunoPET) that can detect a patient CD8+ T cell throughout their body. By doing so, this would allow the clinician to determine if and when to give immunotherapy, what type or combination to give, and provide an early read out of drug action.
Klaas Zuideveld, CEO, Versameb
The biggest opportunities to improve cancer care I see are in therapeutics, and particularly new modalities such as RNA, which can effectively address different tumor targets simultaneously.