A few months ago, we introduced Labiotech Insider, our membership program, to our readers. Thanks to your feedback and support, we're now convinced this model is the way forward for our media. Today marks a new step in our development, with the launch of new features, a new commitment from our investors, and big ambition for the coming months!
Back in 2014, we launched Labiotech.eu with a clear idea in mind: providing free online content to the European biotech community. This vision helped us to rapidly expand and establish our website as a leading platform in the field.
To finance our development, we decided very early on to use two sources: external investments and advertising. The former gave us the funds to kick in the growth of our media and develop the website, while the latter is the best way to provide free content in exchange for visibility for advertisers. However, investments and advertising revenues each have their limits.
To accelerate our growth, we started exploring new revenue models in the last few years. When we looked at our options, two components were important:
Our new revenue stream should be compatible with advertising so we can keep most of our content free and accessible to all our users.

Our readers should directly impact this new revenue stream. This is a great way for us to prove that we're creating a high value for the community. If our readers support us financially, it means we're doing a good job! 
The membership model offered the perfect solution. While our advertising revenues keep financing the free content on our website, we can also ask our most engaged readers to support us through their membership subscriptions. In exchange for a yearly fee, we provide them with a ton of cool stuff!
In May of this year, we launched the first version of our membership program: Labiotech Insider. The idea was to build it around two aspects: in-depth content and community building. The feedback we received confirmed that this dual vision provides great value for biotech professionals who want to dive deeper into the industry. 
The future of our membership will continue to explore these two visions. Our premium content will be diversified and easier to access. We will also produce more exclusive reports to offer relevant analysis of the industry. In terms of community building, our events will become exclusive to our members to offer a regular place to meet and create more bonds with one another. 
We've been working on new features that will help us achieve this vision, and today, we're ready to launch them publicly!
Introducing Labiotech Insider 2.0
With Labiotech Insider 2.0, we're launching 4 new features on our website:
Access premium content on Labiotech.eu
When we launched the first version of our membership, we decided to provide our members with premium content via email. But accessing the content was not always easy, as it can get lost easily in your inbox. That's why we decided to develop a way for members to access it directly on Labiotech.eu. Logged in members will now be able to fully read our premium articles thanks to this new feature.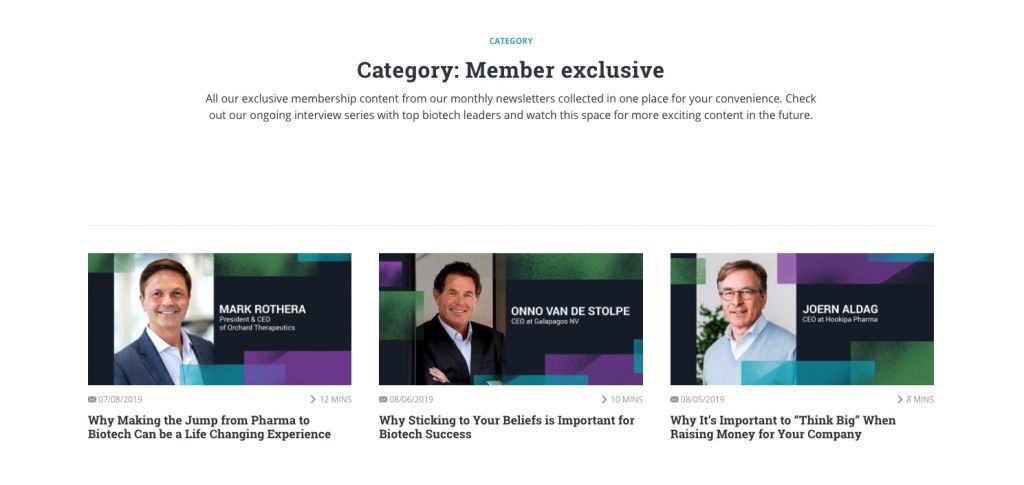 Download exclusive reports from our website
One of the perks of our membership is the option to receive free reports we're producing. As with the premium articles, we will make it easier for users to access them via a menu on our website.

Manage your account and subscription
Another feature our members wished for was the option to manage their profile and subscription online. Wish granted! Members can now access their account via the login section and manage payment options, contact details, and subscription renewal.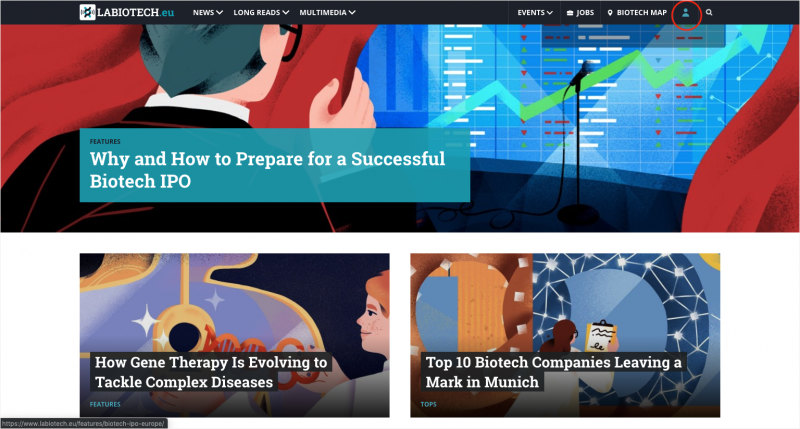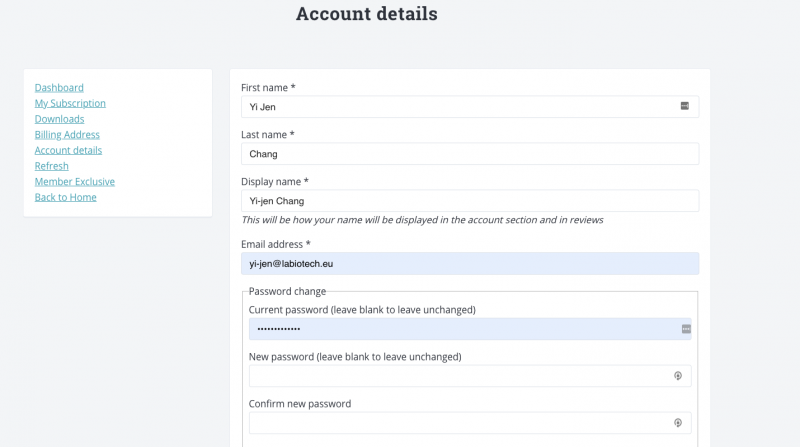 Register for our events from your personal space
Our members will have the option to register in advance for our upcoming events. It will now be easier to plan your business trip ahead and make sure you have a spot at our meetups!
What's next for Labiotech.eu?
As you may have figured out, a lot is going on at Labiotech.eu. We truly believe our membership model will help us build even more value for our readers. In a time where the media industry is in complete mutation, we chose a model that relies on the support and trust of our readers to push our development forward. 
Our investors also believe in this vision and recently decided to invest additional funds in our company. Thanks to their renewed trust, we can now focus on improving your experience and providing more value to the community.
Here's what we're planning to do in the coming months:
We decided to redesign our menu and categories to offer a better way to navigate our content and website sections. Login options and subscriptions to our newsletter will also be easier to access in the future. 

In a few weeks, we will launch a new edition of our annual report on investment,

Biotech Money Insider

. And it will be accessible to download for all of our Insiders! 

We're redesigning our Refresh events in 2020 to center around our members. Our meetups will be accessible only for members. With this new focus on members, we aim at creating more bonds between Labiotech fans.

We will redesign our homepage and article pages to offer a better experience to our users.

We will completely redesign our Jobs section with a new design and features. For those interested in job offers, it will become easier to navigate the market with search and filter options.

We're partnering with many events in biotech, and we want to ensure you benefit too. Our members will have access to exclusive deals and promotions with our event partners, directly accessible in their personal area. 
How can you help?
Building an independent media platform based on serious journalism is a priority for us. Our mission is to foster the European biotech ecosystem through access to high quality information and content. In this regard, I'd also like to mention our team of 10 passionate people who are doing an amazing job every day to provide you with great content. Without them, all of this would not be possible. 
However, we can't pursue ambitious journalism without your support!
If you believe in our mission and values, becoming one of our members will help us reach our ambition and build more value for the biotech industry. If it's not already the case, become one of our members and join us in our mission.

---
Image from Elena Resko