Media was the first industry to be disrupted by the digital revolution, aka "The Internet". Most of the established media platforms are still trying to figure out what to do, especially on the revenues/profits side of things. On the other hand, some of the biggest players today were founded in the last 15 years, think Business Insider, Buzzfeed, or TechCrunch. These success-stories have inspired us to build the biggest digital media platform for biotech. Here's a post on how the media industry works and how we profit from going digital.
The media industry's goal is to better inform everyone so that we can make better decisions, whether it's in the business or personal sphere. But the industry is not in its best shape, it has been declining over the past 15 years. In the US alone, the industry has shed a fifth of its journalists since 2001.
Of course, it's a multifactorial situation but the internet has played a game-changing role. It reshuffled the business model of the industry, thus cutting the industry's revenues, which led to layoffs, less quality content, and even fewer revenues creating a negative feedback loop which the industry struggles to escape.
But digital is here to stay, or even to replace traditional media, as Henry Blodget, founder of Business Insider presented at NOAH in Berlin in 2016: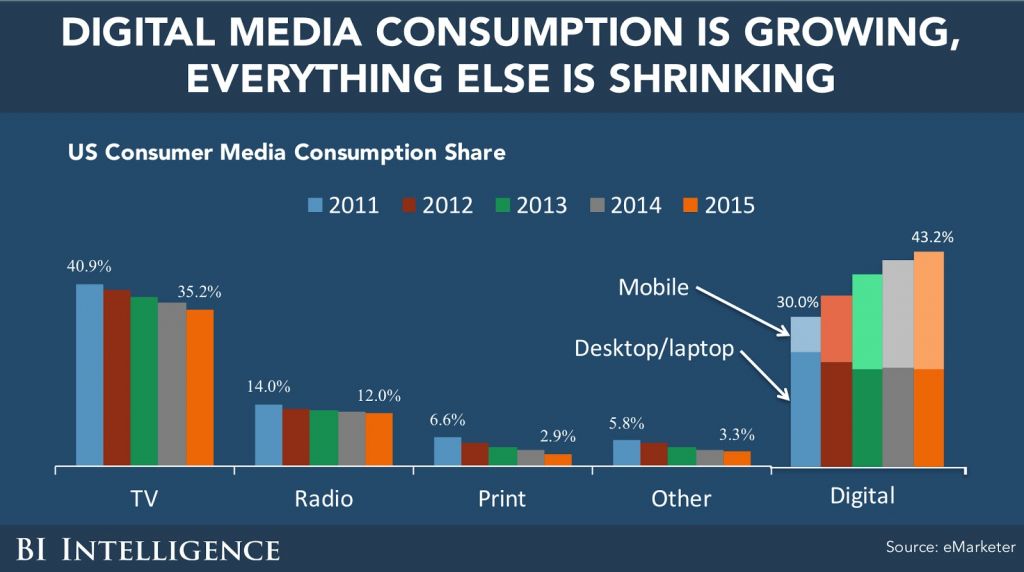 On the other hand, many startups were launched to profit from the digital revelation instead of suffering from it. Business Insider is an excellent example. It was co-founded by Henry Blodget in 2007 and is now the biggest business publication in terms of traffic, with over 130 million readers a month. This is far bigger than Bloomberg (100M), the Wall Street Journal (60M) or the Financial Times (25M). Axel Springer acquired the company for $442M in 2016 to exploit its potential and share the digital knowledge across the property of Europe's largest media company (which already makes 80% of its revenues from digital).
Other massive success-stories include:
All these examples show that digital media is an industry where one can succeed, and it has helped us a lot.
In these examples, you've got two types, B2C (direct to consumer, mass publication) or B2B (industry, smaller niche, higher value per reader). In the B2B space, where we are evolving, believe it or not, you still have dozens of legacy players which are completely stuck in the past. They still sell paper subscription as if the internet didn't exist. These publishers might soon end up in the "disrupted list", alongside Kodak, Nokia, and many others.
Some publishers are trying to catch the wave but not very rapidly. They still struggle to fully capture the power of the digital revolution and to generate profits. Actually, I'm in contact with most of the European B2B media and wouldn't be able to cite you one perfect example.
In biotech, especially in Europe, it is/was a massive problem. Most of the magazines were still paper-based, or only for one single country, not giving the industry and the people gravitating around it the coverage they needed and deserved. It led the European biotech community to be less developed than it could/should be.
That's one reason that drove Joachim and I to found Labiotech.eu three years ago. We truly believed that a modern digital media for biotech was needed in Europe and that it was the right time to do it. You can read more about our story here and how we've been doing over the past year.
We're now the biggest digital platform for biotech with almost 100 000 readers per month. Of course, it wasn't an easy ride. We made a lot of sacrifices, worked (still working) very hard, were fortunate to hire an amazing team and had to fight to find investors believing in our project and investing in content.
But most importantly, we fully profited from the digital revolution. Here are a few examples of how we did that:
Make your content accessible and free so it can spread fast. That's why we haven't had any paywall on our website, and why some of the most successful digital media (business insider, buzzfeed, techcrunch, mashable) don't have any either because a paywall hinders readers to access and share your content.

Exploit social media. Our posts are seen 1 000 000 times per month and it drives 20% of our traffic.

Google loves great content, especially when not behind a paywall, which drives 50% of our traffic today.

Make smart use of existing technology to develop your product. Our website is based on WordPress which is a free platform

powering 28.6% of the world's websites

and which would cost in the 6-digits to develop from scratch. Our app runs on Goodbarber, a platform to build native apps rapidly and for 10 to 100 times the cost.

Automate your business as much as possible. We have so many daily tasks that can be replaced or improved by software, for example, our email campaigns are sent via Reply.io to be personalized and to follow-up automatically. Zapier helps us connect apps, for example, to make our hiring more effective, by automatically connecting Typeform with Gmail, Trello, and Slack.
And there is still much more to do. We are working constantly on improving the virality of our posts, the engagement of our community, how we work with video, adapting our content for Google, profiting from new social media, using upcoming technologies (AI, bots, VR), etc. We're super excited about the upcoming projects we have in the pipeline and you'll see some of those in the coming months!
Overall, it's a great time to be in the digital media industry. We can be inspired by success-stories and can profit from the power of the internet. This ultimately helps us better connect the biotech industry in Europe, helping every one of you develop better drugs, better biofuels or any of the amazing stuff biotech has the potential for.
Sources to go further: