Swiss and Spanish researchers are developing a diagnostic test that measures the severity of mild traumatic brain injury that delivers results in ten minutes with a single drop of blood.
CT scans are currently the only reliable method for diagnosing mild traumatic brain injury. However, the technology is not available in all hospitals, is expensive and exposes patients to high levels of radiation. A new diagnostic device offers a promising alternative by using a single drop of blood to identify mild trauma in brain injury patients within ten minutes.
To develop the device, blood levels of thousands of proteins were analyzed to identify four proteins that indicate the presence of traumatic brain injury. The device, created by the Swiss and Spanish scientists who were inspired by the pregnancy test, measures the levels of one of these proteins. The protein is called H-FABP and is released in some brain cells after sustaining a shock to the head. The test can be used to determine whether a patient sustained mild traumatic brain injury after a shock and requires hospitalization.
"We have noticed that the H-FABP level alone makes it possible to confirm that there is no risk of trauma in one third of patients admitted after a shock," explains Jean-Charles Sanchez, who led the research team at the University of Geneva. For the remaining two-thirds of patients, a CT scan is necessary to confirm a diagnosis.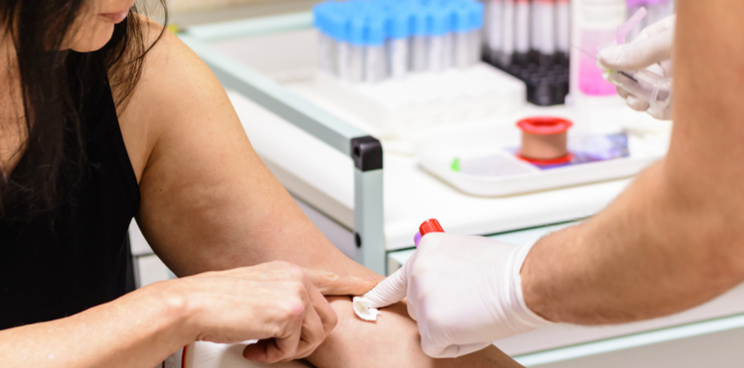 The device could be particularly useful for patients in mountain accidents and other inaccessible environments where transport to a hospital for a CT-scan is not easy. ABCDx, a start-up founded in 2014 by Jean-Charles Sanchez and Joan Montaner of Vall d'Hebron Hospital in Barcelona, plans to market the device starting in 2019.
The scientists are working on an improved version of the device that uses a second protein, called GFAP, in addition to H-FABP to increase the test's accuracy. The scientists hope that this will allow the device to determine whether there is a risk of mild traumatic brain injury in around half of the patient population. ABCDx ultimately aims to launch biomarker diagnostic devices for stroke and aneurysms as well.
Other molecules are showing potential as biomarkers for brain injury as well. For example, researchers at UCLA showed that a lipid called LPA increased in an animal model of traumatic brain injury. The US scientists posit that LPA could be used to predict the outcomes in these patients.
Traumatic brain injury affects 2.5 million people in Europe each year, but only 1 million patients are hospitalized. Improved diagnostic methods such as the one currently being developed could help ensure patients in need of hospital treatment receive it in a timely fashion.
---
Images by Lightspring/Shutterstock