We arrive in the city of Madrid this week to showcase Biohope, which is developing a technique to combat kidney transplant rejection by tailoring immunosuppressant treatments to individual patients.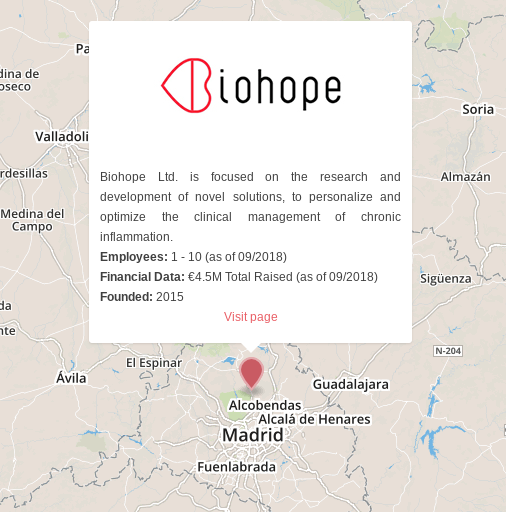 Mission: Founded in 2015, Biohope is developing a commercial lab kit, called Immunobiogram, that predicts the most effective immunosuppressant drugs for kidney transplant patients.
Around 50% of kidney transplants fail in the first ten years after transplantation. The most common reason for this is chronic rejection, where the patient's immune system attacks the foreign organ.
Transplant rejection is usually treated with drugs that weaken the patient's immune system, called immunosuppressants. However, Biohope claims that as many as 60% of patients with renal transplant failure are resistant to their prescribed immunosuppressants. As a result, there is an unmet need to personalize such therapy to individual transplant recipients.
The concept behind the Immunobiogram test is that, using just a small blood sample from the patient, their immune cells are cultured with different immunosuppressant drugs. The reaction of the cells to each drug is studied to predict which one will suit the patient best.  
According to Biohope's 70-patient pilot study, Immunobiogram was able to predict which patients would have rejection problems with the kidney transplant, based on their immunosuppressant resistance profile identified by the kit.
With the help of almost €4M from the EU, which it received last year, Biohope began recruiting 200 transplanted patients for an observation study in June. The company is expecting to release preliminary results in 2019.
Biohope also hopes to adapt the kit for patients with rheumatoid arthritis, who also use immunosuppressants. They raised €332,000 from a crowdfunding scheme this year and are planning to launch a clinical trial in 100 patients.
What we think: This technique could help to reduce the number of patients experiencing kidney transplant rejection, which could help to improve their quality of life, and also ease pressure on long organ transplant waiting lists.
Although Biohope's pilot study showed Immunobiogram has promise, it still remains to be seen if its kit can help with patient healthcare long-term.
Other companies are also working to try and prevent organ transplant failure using a personalized approach. In May last year, German biotech TolerogenixX successfully completed a Phase I trial of its personalized cell therapy, which aims to prevent rejection without the use of immunosuppressants. In addition, the US company Plexision already makes an FDA-approved test that predicts a patient's likelihood of rejecting an organ transplant.
---
Image from Shutterstock