This week, we're in Cantanhede, a small city near the coast in Portugal, to visit Immunethep. The company is developing immunotherapies against life-threatening multibacterial infections using a virulence mechanism common to different types of bacteria.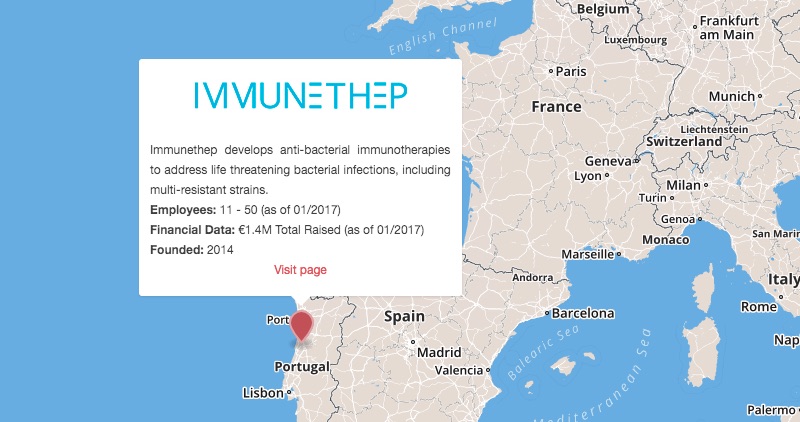 Mission: Founded in 2014, Immunethep is a spin-off from the University of Porto that discovered a novel virulence mechanism by which bacteria suppress the immune response of their infected host. Immunethep's technology targets an extracellular protein conserved across different pathogenic bacteria. By neutralizing the protein, Immunethep states its technology can protect patients against infection.
After raising €700,000 in seed funding from Portugal Ventures in 2015, the company is raising Series A funding to enter a Phase I trial for its first product, Paragon Novel Vaccine, or PNV1. Immunethep claims PNV1 will be the first vaccine that can protect patients against multibacterial infections, including different variants, or serotypes, of the same bacterial species.
Additionally, the company received a grant of$100,823 (€82,151.59) from the Bill & Melinda Gates Foundation last year to determine if orally delivered antibodies can prevent group B streptococcus infections, which affect pregnant women. The antibodies target GAPDH, an a gene involved in basic metabolic functions.
Comment: Being awarded a grant form the Bill and Melinda Gates foundation is no small feat. The grant underscores the benefit that an oral treatment for streptococcus B could have in increasing access to effective treatments for patients in developing countries. For example, Africa has the highest rate of streptococcus B infections, with 54% of estimated cases and 65% of stillbirths and infant deaths globally.
While I am excited by the prospect of a multibacterial vaccination, I think it's worth being cautious. The fact that PNV1 would be the first vaccine of this kind highlights the difficulty in developing this type of treatment. I am interested to see whether PNV1 successfully advances through the pipeline.
---
Image by Sean Pavone/Shutterstock