This week we had the chance to visit both Grenoble and Liège, where the French-Belgian biotech hybrid PDC*line Pharma has its two headquarters. The company is progressing new types of immunotherapies based on dendritic cells (DCs).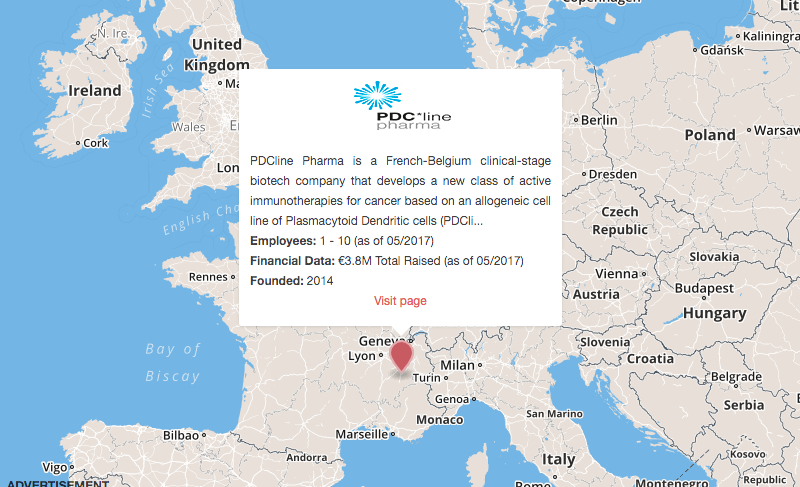 Mission: PDC*line Pharma emerged from an R&D program of the French Blood Bank (EFS, Etablissement Français du Sang), where its technology was first developed. Based on the PDC*line, a human allogenic cell line of Plasmacytoid Dendritic Cells, the company is developing new off-the-shelf DC-based therapies to treat cancer.
Its PDC cells can be loaded with peptides from a combination of tumor antigens relevant for a targeted cancer type. The biotech has already kicked-off Phase I trials with PDC*mel to treat melanoma and is working on a preclinical candidate for lung cancer.
Comment: PDC*line Pharma is not the only company working on DC-based vaccines to treat cancer. Leiden-based DCPrime is currently moving into Phase II to treat patients with AML, similar to Medigene, which is in Phase II for AML and Prostate Cancer. Yet, the biotech says it can outperform its DC-competitors, as the plasmacytoid DC line can much more potently induce specific cytotoxic T cells compared to conventional DCs.
It looks like this has also convinced investors as the company was able to raise €4M in its recent first funding round to support its early-stage pipeline.
---
Images via shutterstock.com / Binh Son Nguyen and pdc-line-pharma.com
Merken
Merken