Today, we're in Archamps, France, visiting Pragma Therapeutics, a neuroscience biotech developing drugs to regulate neuronal signalling in hearing loss.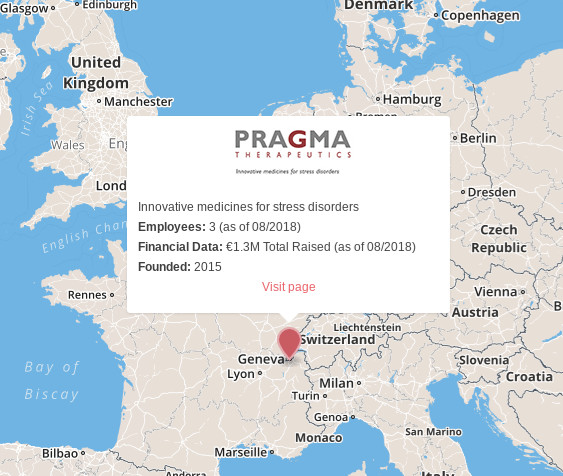 Mission: Pragma Therapeutics develops treatments for noise-induced and age-related hearing loss that regulate glutamate levels. Glutamate is the most abundant neurotransmitter in the nervous system and makes nerve cells turn on, or fire. 
In patients with hearing loss, Pragma targets mGlu7 glutamate receptors found in hair cells and neurons in the inner ear and cochlea. Dampening glutamate signalling in these areas by modulating mGlu7 could lead to better hearing. Pragma's treatment is given orally in a pill, which the company believes could set it apart from treatments given as injections. The company is currently looking for funding to advance its drug candidate into human clinical trials. 
What we think: Hearing loss is receiving more and more attention in the media, but we are still a long way from curing the condition. In fact, there are no FDA approved drugs for the condition, and only a few older drugs licensed in some European countries.
In the inner ear, hearing loss can have a variety of causes, from viral infections to head trauma. This type of hearing loss is often treated with corticosteroids to reduce inflammation, but this does not treat the cause of the condition. 
However, some biotechs are working on drugs that treat the causes of poor hearing. For example, Auris Medical, a Swiss biotech, has a drug candidate in Phase III testing that protects hair cells from cell suicide. It's too early to tell how Pragma's approach will compare in the clinic, but having different types of treatments in development can only benefit patients in the long run.
---
Image by Apolla/Shutterstock