Abivax has announced results from a Phase IIa trial that reveal the first proof in human of viral load reduction of hidden HIV reservoirs. 
Abivax is developing a functional HIV cure that, unlike current antiretroviral therapy (ART), could completely eliminate the virus and prevent it from coming back when the treatment is stopped. Results from a Phase IIa trial have proved that the therapy can indeed target the viral DNA that hides inactive within blood cells.
"It's the first time that a pharmacological agent has proved to be able to reduce the reservoir in HIV patients," Jean-Marc Steens, VP & CMO of Abivax, told us during a call this morning.
The trial recruited 30 patients with HIV that were treated either with ABX464 or placebo, in addition to standard ART, for 28 days. After that period, all treatments were interrupted to observe the return of the virus. A reduction of at least 25% and 50 viral DNA copies per cell in peripheral blood mononuclear cells (PBMCs) was observed in 50% of the 14 patients treated with ABX464.
"ABX464 inhibits the biogenesis of viral RNA by interacting with a viral protein called Rev and preventing any replication," explains Steens. The activity is specific only to HIV viruses and therefore doesn't affect the cell's own RNA. However, the mechanism of action that makes this molecule act specifically on reservoir cells is still yet to be elucidated according to Steens.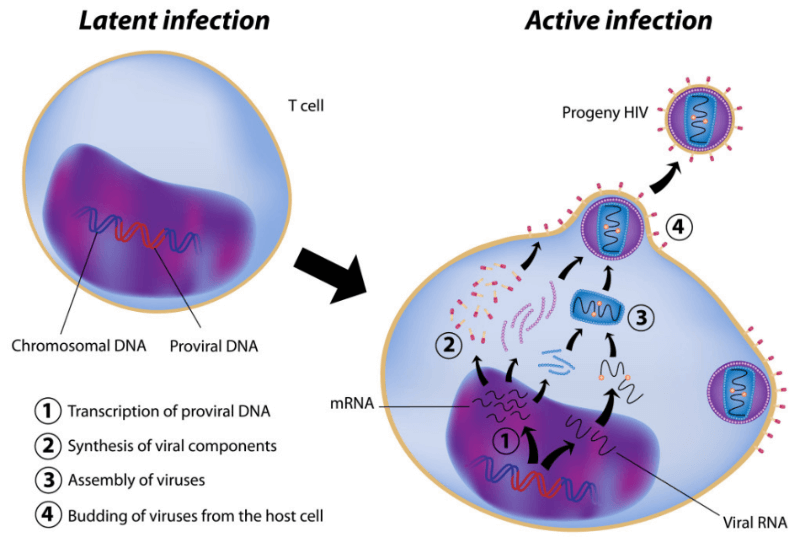 Despite encouraging results, there is still a lot more to do. "We saw an average decrease of 40% of the viral reservoir, which is probably not enough," says Steens. An ongoing Phase IIa study for ABX464 looking at the viral reservoir levels in rectal tissue will undergo a protocol amend to treat the patients longer and aim "to achieve further reduction of the reservoir."
Abivax is now also looking at various factors that could determine why the other 50% of the patients didn't respond. "These could include the length of treatment they were on in the past, whether they were treated early or late in their infection, what type of medication they have been receiving in the past, what their viral load setpoint was at that time…" elaborates Steens.
"These studies will then guide us towards designing Phase IIb, which will be run in a larger number of patients to make sure the drug really works in different scenarios. We expect to start by the end of the year, and then based on these results we could go into Phase III studies by the end of 2018 or early 2019."
Meanwhile, the company wants to further exploit the drug's strong anti-inflammatory effects. According to Hartmut J. Ehrlich, CEO of Abivax, it will soon be tested "in a Phase II study for patients with inflammatory bowel diseases (IBDs), specifically ulcerative colitis," which is expected shortly after this summer.
Although there is still a lot to be improved and researched, these results position Abivax as the first to successfully achieve reduction of the HIV reservoir. Other companies like InnaVirVax and Mologen, which are developing their own approaches towards a functional HIV cure, still haven't reached this milestone.
And while an HIV cure keeps getting closer to the market, Abivax is using its technology to identify new compounds that can inhibit the replication of many other viruses, including chikungunya, RSV, dengue, and zika. "They might go into the clinic in the next 18-24 months," assures Ehrlich.
---
Images from Medical Art Inc /Shutterstock