Auris Medical's treatment for sudden deafness has failed to meet its efficacy endpoint, leading the company to terminate a second trial early. 
Based in Zug, Switzerland, Auris Medical is developing what could be the first treatments for inner ear disorders such as hearing loss, tinnitus, and vertigo. But today, the company suffered a setback. Its lead candidate, AM-111, failed to show a statistical improvement in hearing after 28 days when compared to a placebo in patients suffering from severe or profound sudden deafness.
The company's NASDAQ stock has dropped by 12% since the news this morning.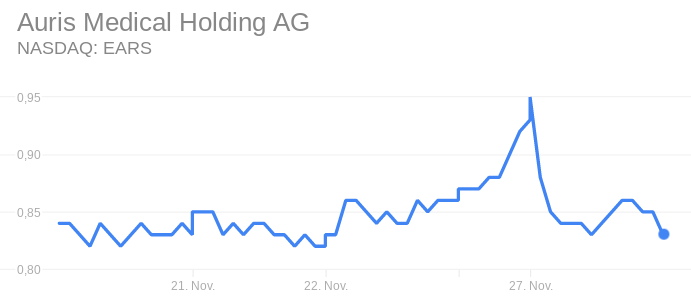 Auris has indicated that the treatment did show a statistical improvement in a subgroup of patients with profound sudden deafness — those with the largest loss of hearing, over 80 decibels (dB). However, this was found in a post-hoc analysis and was only true for the lowest of two doses tested.
Acknowledging that the trial's design might be at fault, the company has decided to terminate early a second Phase III trial, ASSENT, testing AM-111 in North America and South Korea. The company has stated today that it is not considering to conduct new trials with AM-111, but that it will discuss with regulatory agencies the possibility of obtaining approval despite the results of this trial. Which actually wouldn't make it the first to try or even to get approval without showing clear Phase III efficacy.
As CEO Thomas Meyer told me during an interview before the announcement, the company was strongly bidding for making inner ear treatments more effective by using a local delivery approach. It seems like, at least for sudden deafness, local delivery might not be enough to improve the patient's natural healing capacity. It remains to be seen whether this approach proves successful in other hearing disorders in Auris' pipeline, namely vertigo and tinnitus.
Auris Medical is not the first company to encounter challenges in demonstrating efficacy in hearing disorders. Otonomy, based in the US, recently failed in treating Ménière's disease, whose symptoms include vertigo, tinnitus and hearing loss. Autifony, in the UK, failed in both tinnitus and hearing loss trials. Treating hearing disorders remains a big challenge.
---
Images via Bangkoker /Shutterstock; Yahoo Finance