Cell Medica's Orphan Drug CMD-003 has received fast track designation by the FDA to advance immunotherapy of  patients with Epstein Bar Virus (EBV)-associated malignancies.
The FDA's fast track designation has been designed to facilitate and accelerate the development of drugs which fill a major unmet medical need. It has now been granted to Cell Medica's lead EBV immunotherapy candidate CMD-003 to address the need of patients with EBV-associated relapsed/refractory lymphoma and post-transplant lymphoproliferative disease. 
The UK-based biotech company Cell Medica is developing cell-based immunotherapeutic strategies for the treatment of cancer as well as viral infections. EBV infects over 90% of the population usually causing a latent infection. However, EBV-infection is connected to a variety of cancers including 15% – 20% of lymphomas, more than 90% of nasopharyngeal carcinomas and about 10% of gastric cancers.
Cell Medica's lead product CMD-003 was developed in collaboration with the Center for Cell and Gene Therapy (CAGT) at Baylor College of Medicine and consists of patient-derived (autologous) EBV-specific T cells, targeting four EBV-associated antigens. The patient's autologous T cells are activated, expanded and finally returned to the patient to recognize and kill EBV-infected malignant cells.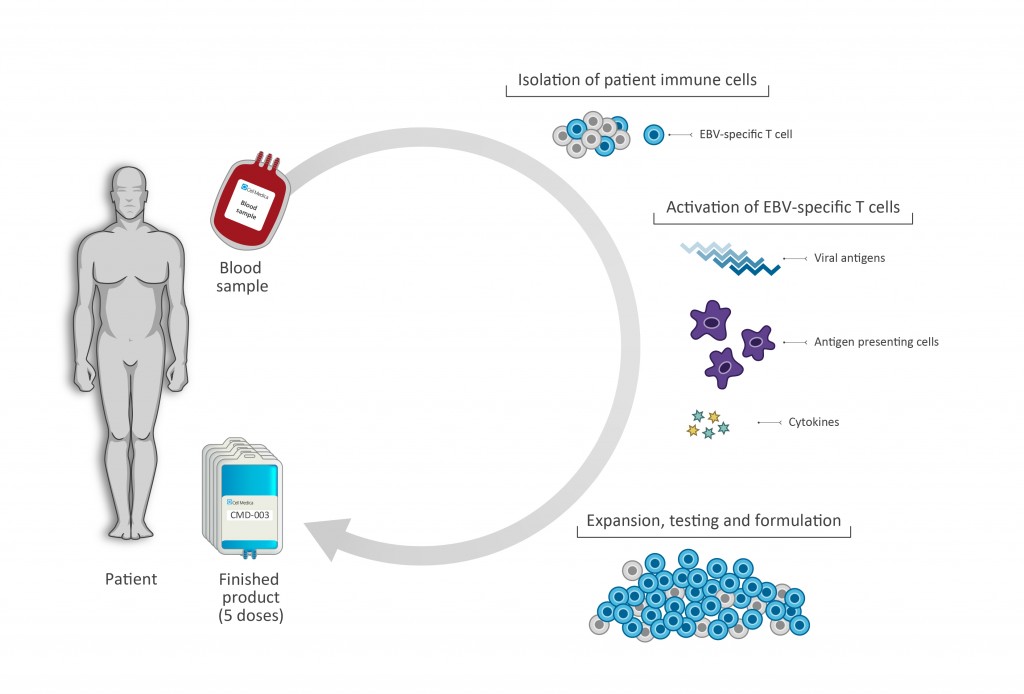 CMD-003 is currently being investigated in the Phase II CITADEL trial for patients with extranodal natural killer T cell lymphoma (ENKTCL). Moreover, the company has recently expanded indications to include EBV-positive diffuse large cell lymphoma (DLBCL), Hodgkin lymphoma and post-transplant lymphoproliferative disease (PTLD), which are being investigated in the CIVIC phase II trial.
Recently, CMD-003 received orphan drug designation from both FDA (EBV-associated non-Hodgkin lymphoma) and EMA (extranodal NK/T lymphoma, nasal type and post-transplant lymphoproliferative disease). The orphan-drug designation already paves the road for accelerated marketing approval and extended market exclusivity. Now CMD-003 receives another boost from the FDA, as the fast track status will allow for more frequent interactions with the FDA review team and a rolling Biologics License Application (BLA) for earlier product review.
Cell Medica's EBV immunotherapy addresses a rare medical condition. However, other T-cell players such as Atara Biotherapeutics in the US are also in the race. The US Biotech is conducting phase II trials with donor-derived (heterologous) cytotoxic T cells for the treatment of EBV-associated malignancies. They have recently received breakthrough therapy designation by the FDA – involving all fast track features – for the treatment of EBV-associated lymphoproliferative disease.
Still, the current status is great news for Cell Medica, who has also recently entered a collaboration with University College London to develop even more innovative T cell receptor products for the treatment of cancer.
Images via shutterstock.com / Juan Gaertner and Cell Medica