Genkyotex, a French biotech with an eye on NASH, has received FDA approval to initiate a Phase II trial in primary biliary cholangitis.
Genkyotex's lead candidate, GKT831, failed to prove its efficacy in a Phase II trial for diabetic nephropathy a couple of years ago. Now, the company is taking a second shot by targeting liver fibrosis instead, with the acceptance of its investigational new drug (IND) application by the FDA. This allows Genkyotex to start a Phase II study in primary biliary cholangitis (PBC), which is expected to start in the second quarter of 2017 and deliver results in 2018.
Genkyotex specializes in NOX enzymes, a family of proteins that play a key role in several diseases. In particular, GKT831 is an inhibitor of NOX1 and NOX4, which are overexpressed in patients with fibrotic liver diseases. Although it missed its primary endpoint in the previous trial, the drug showed statistically significant improvement in inflammation and liver enzyme levels, which has led the company to give it a second try with a new indication.
Currently, treatments for PBC cannot stop the progression of liver injury and fibrosis, which can eventually lead to liver failure or cancer. Genkyotex' candidate has anti-inflammatory and anti-fibrotic effects that could improve the outcome of the disease.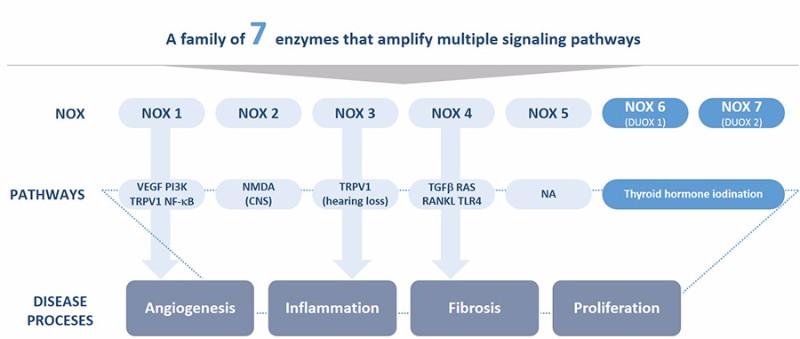 If the new trial succeeds, Genkyotex will have a shot to enter a very profitable market. As the CEO, Elias Paptheodorou, told us recently, the company's final goal is NASH, a highly coveted indication in the biotech space. "We're starting with a PBC trial with GKT831 in order to get results much more quickly than with a NASH trial. Our goal is to show in the clinic that we have a differentiated solution for patients fighting fibrosis."
With a market potential of €37Bn and no available drugs for NASH yet, the field of candidates is starting to get crowded. Genfit and Intercept currently lead the race, but Genkyotex could outperform them once it gets there. While most approaches focus on the metabolic aspects of NASH, Genkyotex goes for the core fibrotic and inflammatory components of the disease.
The results of this new Phase II trial will reveal whether Genkyotex can really compete with its rivals. Genfit also started last year a Phase II trial in PBC with its lead NASH candidate, Elafibranor. The results of these trials will provide the perfect ground to compare the performance of their competing drugs.
---
Images from Sidachova Antonina /Shutterstock; Genkyotex