Immunocore, one of the only three European biotech unicorns, has presented Phase I results for its TCR immunotherapy IMCgp100 in patients suffering from metastatic uveal melanoma. Results are positive, but perhaps not to the level of expectation for a company with such a high valuation.

On Saturday, Immunocore presented its latest clinical results at the Society for Immunotherapy of Cancer (SITC) Annual Meeting. The company revealed safety and efficacy data from two Phase I clinical trials testing its T-cell receptor (TCR) technology as a treatment for metastatic uveal melanoma, a form of cancer that accounts for up to 81% cases of eye cancer.
Immunocore has proudly announced that its lead candidate, IMCgp100, nearly doubled the percentage of patients that survived after one year of treatment. The data shows that 73% and 79.5% of patients, respectively, survived for a year following treatment with IMCgp100.
The results seem promising considering that there is currently no standard of care for metastatic uveal melanoma. Without treatment, some studies estimate that survival after a year is as low as 13%. Immunocore reports that "studies with other agents" only achieve 25-45% one-year survival. However, the company hasn't specified which agents it is referring to.
When looking at whether or not Immunocore's therapy managed to stop the progression of metastatic uveal melanoma, the numbers didn't seem as good. The median for progression-free survival was just 3.7 and 5.6 months respectively. And in terms of reducing the size of the tumor, an overall response was only seen in a total of 5 patients out of 35 among both studies.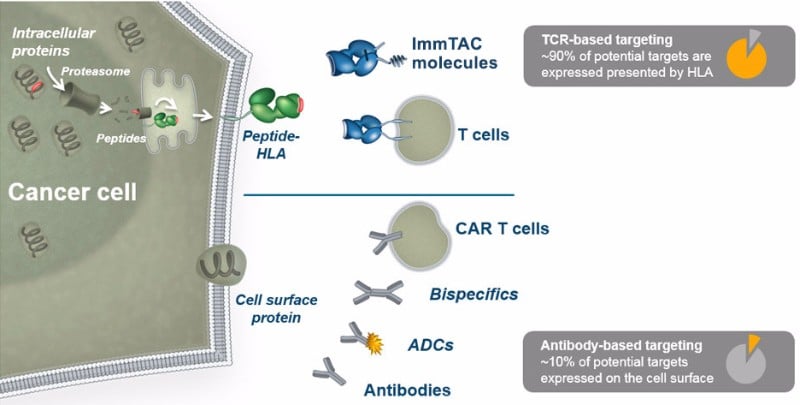 Christina Coughlin, CMO of Immunocore, states that the therapy has the potential to address "cold" tumors — that is, those the immune system has problems reaching  — better than checkpoint inhibitors, which are taking the immuno-oncology space by storm. Unlike immunotherapies based on checkpoint inhibitors or CAR-T cells, Immunocore's TCRs can go after intracellular antigens, which represent about 90% of potential cancer targets.
But it remains to be seen whether the theory translates into practice in larger clinical trials. Supported by positive preliminary data presented at ASCO 2017, Immunocore started a pivotal trial with IMCgp100 earlier this year. In it, investigators will compare the efficacy of IMCgp100 in untreated patients with advanced uveal melanoma versus their treatment of choice between dacarbazine (a chemotherapy drug), ipilimumab, or pembrolizumab (both checkpoint inhibitors).
While the results presented are positive, they don't seem to fully match the big expectations put on Immunocore. The company raised a massive €293M back in 2015 in what is still the largest private round in European biotech, and is one of only three unicorn companies in the European biotech space. Some of our sources within biotech investment argue that the company's valuation is overinflated, which might make it hard for the company to go public anytime soon.
At the moment, Immunocore's lead candidate IMCgp100 is also the subject of collaborations with AstraZeneca and Eli Lilly to combine the treatment with a checkpoint inhibitor and a small molecule, respectively. And the company is also collaborating with GSK and Genentech in oncology, and has recently received €33M from the Bill and Melinda Gates Foundation to apply its technology to the fight against HIV.
---
Images via Meletios Verras /Shutterstock; Immunocore