Targovax has obtained positive Phase I/II results showing its pancreatic cancer vaccine improved the survival of 32 patients also receiving chemotherapy over two years.
Targovax, based in Oslo, Norway, has obtained positive Phase I/II results confirming the efficacy of its pancreatic cancer vaccine in a larger patient population and over a longer time period than had been previously shown. Targovax's vaccine could offer hope to patients with pancreatic cancer, which is particularly difficult to treat and has one of the lowest survival rates of all cancers.
The trial tested the effects of Targovax's cancer vaccine TG01 on the two-year survival of 32 enrolled patients receiving chemotherapy. Results showed 30 patients (94%) were alive one year after surgery, and 23 patients (72%) survived two-years after surgery. The median overall survival was just under three years, an astounding improvement compared to the median survival time of 4.6 months after diagnosis for pancreatic cancer patients in Europe.
TG01 is a peptide-based cancer vaccine that targets RAS mutations, the most common genetic mutations found in cancer overall. The vaccine contains 7 mutated RAS peptides, which are injected into the body to induce an immune response. The peptides then program T cells to attack and destroy the tumor.
The news confirms Targovax's Phase I/II findings from last year, in which 13 (100%) patients treated with TG01 survived for one year after surgery. The current findings suggest TG01 could enhance the effectiveness of existing treatments for pancreatic cancer.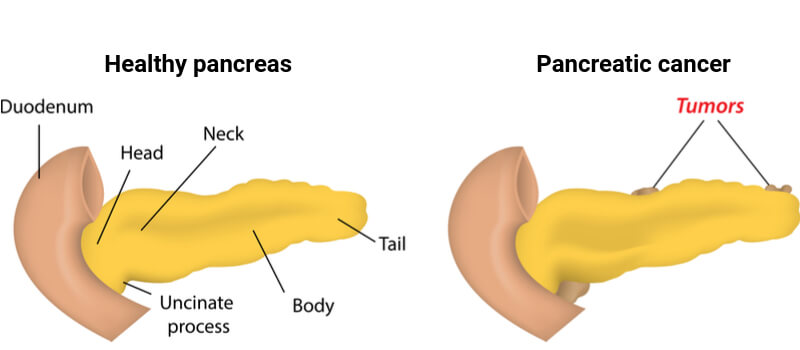 Patients diagnosed with pancreatic cancer have a particularly poor prognosis, in part because the disease is often not detected until it is already quite advanced. Pancreatic cancer is most often treated with surgery, radiation therapy or chemotherapy. Nonetheless, less than 1% of pancreatic cancer patients survive for more than ten years.
However, TG01 is not the only promising treatment for pancreatic cancer on the horizon. Last year, the French company Erytech obtained positive Phase IIb results in pancreatic cancer for its treatment that delivers cancer-fighting enzymes inside red blood cells. Additionally, researchers at Queen Mary University in London have used a modified flu virus to inhibit pancreatic cancer growth in mice.
Developing cancer vaccines is no easy task. For example, Bavarian Nordic terminated a Phase III cancer vaccine study after results showed it was not effective when used on its own. While Targovax's results are promising when used with chemotherapy, we have yet to see how TG01 fares with other treatments like checkpoint inhibitors.
---
Images by joshya, Sebastian Kaulitzki/Shutterstock