As the biotech industry flourishes and therapies become more targeted and personalized, the need for drug developers to interact with patients is increasing as well. While patient organizations took a backseat in the past, they are continuously gaining importance in drug development today. Nowadays, talking with patient organizations has become paramount for successful drug development, especially in the rare disease space. 
When his newborn son was diagnosed with cystic fibrosis in 2012, Daniel de Boer, then an IT entrepreneur, decided to switch careers completely. He co-founded and became CEO of ProQR, a Dutch company that develops drugs for rare diseases. Working with patients and their carers has been a priority for him ever since. 
"Patients have always been the core of [our] mission," said de Boer. "We've always, from the beginning, established deep relationships with the patient communities and their patient organization representatives."
The importance of the patient voice

The key point that everyone seems to agree on is the importance of the patient voice.  Understanding what patients and their carers need versus what biotechs think they need is crucial.
"These days, patient organizations are affecting drug development in ways they never have before or that weren't standard in the industry before," explained Bruce Bloom, Chief Collaboration Officer at the Cambridge-based biotech Healx. 
"Many companies now realize the importance of the patient voice and also the carer voice in everything, from initially thinking about working on a particular disease, all the way to thinking about how to price and market."
Bloom and his team work with an organization that supports patients with Prader-Willi syndrome, a rare disease that causes slow development, muscle weakness, and poor feeding in children who have it.
"When we talked to the Prader-Willi organization, what we learned is the most pressing need that they have right now is to help kids sleep through the night," Bloom recalled. Without this feedback, the company might have focused on solving muscle weakness or weight gain. By communicating openly, they learned that the most pressing need was to find a therapy to help patients sleep. 
"What we ask the patient groups for is knowledge about what it is like to live with this disease on a day-to-day basis… so that as we run through the entire drug development process, we're always keeping in mind what is most important to patients and carers," Bloom explained. 
"We always want to learn from the [patient] community what their actual needs are because we are developing medicines to treat their genetic disease," de Boer added. "But to do that in the best possible way, we need to really understand what aspects of the disease are bothering [the patients], what is most important to them."
Bridging the chasm between drug developers and patient organizations

Many biotechs still shy away from interacting with patient organizations, therefore missing out on the benefit of the patient voice. In Europe, the non-governmental, patient-driven alliance of patient organizations, EURORDIS, works to bridge the gap between biotechs and patients with rare diseases. 
"We just act as an intermediary, getting the companies to agree to sit down with the patients," explained Rob Camp, Patient Engagement Senior Manager at EURORDIS. "We sit down in a room and we talk about how to make the trials more patient-friendly and more useful from a participant point of view." 
Getting in touch with a patient organization before a trial begins can save a biotech company a big headache, Camp emphasized. "Otherwise, there are amendments and so forth, which are much more expensive and much harder to implement." 
Camp has also experienced many biotech companies being apprehensive about meeting with patients. Often, he said, this is because of legal reasons. Companies' legal departments warn representatives not to give away too much information when talking to patients, which makes it difficult for patients to give supportive advice to biotech companies. 
"Over time, we learn little by little that neither side is the monster," Camp said. "It's really great when we're actually able to sit down and start the negotiation, and both sides realize that the other side is willing to consider things they haven't thought of before and to be more thoughtful about how to move forward. It's a learning process." 
Sometimes, Camp recalled, biotech staff have worked in their companies for decades and never spoken with patients. "It sends shockwaves around the room. But lots of times, companies are in their own little silos and this is a great opportunity [for them] to break out of there and actually meet people who either live with the disease or are parents of kids with the disease." 
Although more and more drug developers are moving into the rare disease space, it is still a challenge for patient organizations to get biotech and pharma companies involved in developing drugs for rare diseases. Because the majority of rare diseases are not understood yet, many companies shy away from them, explained de Boer. 
"The hurdle to start a research development program in such a disease is fairly high. On top of that, rare disease market opportunities are typically smaller, so it's less attractive for companies to launch a program in that space."
The venture philanthropy model
In 1998, Robert J. Beall, then president and CEO of the Maryland-based Cystic Fibrosis Foundation, came up with an idea to get more biotech and pharma companies involved in drug development for cystic fibrosis. 
Beall developed what is now known as the venture philanthropy model. The basic idea was to get voluntary health organizations, such as patient groups, to fund drug development projects with biotech and pharma companies. 
"[The Cystic Fibrosis Foundation] essentially created an environment for innovators, for companies to make it as easy as possible to develop medicines for patients with that disease," de Boer explained. 
Indeed, the donor-funded, non-profit Cystic Fibrosis Foundation has been very successful with this co-funding model. In 2000, the Foundation invested €37M ($40M) in Aurora Biosciences, now Vertex Pharmaceuticals, and in 2012, this investment paid off when the FDA approved ivacaftor to treat the underlying cause of cystic fibrosis. Since then, the Foundation has invested more than €393M ($425M) to develop therapies for cystic fibrosis. 
As a way to get more biotech and pharma companies involved in drug development for rare diseases, many patient organizations have adapted the venture philanthropy model, following in the footsteps of the Cystic Fibrosis Foundation. 
"Patient organizations are essentially creating an environment… where the hurdle for a sponsor like ProQR is much lower to enter the [rare disease] space," de Boer agreed. "It allows us to share the investment with them, but they are also creating the environment, understanding the natural history and the natural course of the disease, which can help us execute our development programs." 
Repurposing drugs for rare diseases
While the venture philanthropy model can boost new drug development projects for some rare diseases, many biotech and pharma companies remain skeptical about working in the rare disease space. 
Although large pharma has the funds, they would prefer to work in more common indications rather than rare diseases because they have a higher chance of making money if the projects are successful, said Mike Tranfaglia, co-founder, Medical Director and CSO at the FRAXA Research Foundation.
"One of the problems, when you're working with big companies, is that nobody is interested in developing their drug first and foremost for a rare disease," he explained. "Everybody is looking for larger indications, so they never want to  jeopardize the big indication to go for the rare indication."
For Tranfaglia "failure is a prerequisite for rare disease drug development" in the pharmaceutical industry. He learned this in 1994 when he founded the FRAXA Research Foundation with his wife and another parent after their sons were diagnosed with fragile X syndrome, the most common known cause of autism worldwide.
They soon realized that drug developers would not risk their primary "blockbuster" indication for fragile X. "When they do start talking to you, you are dealing exclusively with failed drugs," Tranfaglia recalled. "You're only going to have access to drugs that didn't work for something else, by definition." 
Tranfaglia and his team work closely together with Healx. The biotech has taken a different approach to drug repurposing. For example, together with FRAXA, Healx is working on repurposing drugs for fragile X that have been successful for other indications. 
Using artificial intelligence, it collects vast amounts of public and proprietary data from medical literature and databases, which can be used to search for viable drug candidates. Healx has already identified a lead candidate for fragile X, which is currently in clinical planning. 
The power of patient organizations in supporting clinical trials

By working closely together with patient organizations, biotechs can increase their chances of executing successful clinical trials. 
"What the patient organizations are very successfully doing is taking away hurdles," de Boer explained. "They are creating [the foundation] that is needed for any development program to start — understanding the natural history of the disease, starting registries, creating clinical trial networks."
During the organizational phase of clinical trials, the patient voice plays an important role again: biotechs can learn about the patient perspective, understand the patients' needs, and can therefore react and make clinical trial participation more attractive for patients.
On this note, patient organizations are greatly involved in communicating the different aspects of clinical trials to patients. "They do a lot in terms of educating their constituents on why it is important to participate in clinical trials, what it can do for individuals themselves, what it can do for the broader community, what the risks are of participating in trials," said de Boer.
Raising awareness among the rare disease patient community
For de Boer, the key to getting patients involved in rare disease drug development is awareness. Many rare diseases, he said, are greatly under-diagnosed. "It is really important that patients are helped with their diagnosis, with information about their disease."
"If people don't know what disease they have, then they will never really be reached by patient organizations to assess if they are willing or eligible for a clinical trial."
To counteract this problem, ProQR has started a genotyping initiative, a free genotyping program that enables people living with a genetic form of blindness to try to find out what mutation is causing their particular disease. "At the end of the day, it is very important for [the patient] to be able to assess if there is a potential treatment for them," de Boer added. 
But under-diagnosis is not the only challenge biotechs face in getting patients to participate in clinical trials. Cultural and geographical factors also need to be taken into account, emphasized Tranfaglia. 
For instance, while the relationship between drug developers and patient organizations seems to be working quite well in the US, in Europe, many patients are skeptical about working with biotech and pharma companies.
"It varies a lot depending on the country and the culture," Tranfaglia said. "There isn't really a good relationship between the patient community and the industry in some places. Their attitude is, 'my child isn't going to be a guinea pig for you people, you're just trying to make a bunch of money.'"
Improving communication and giving back to patients in the future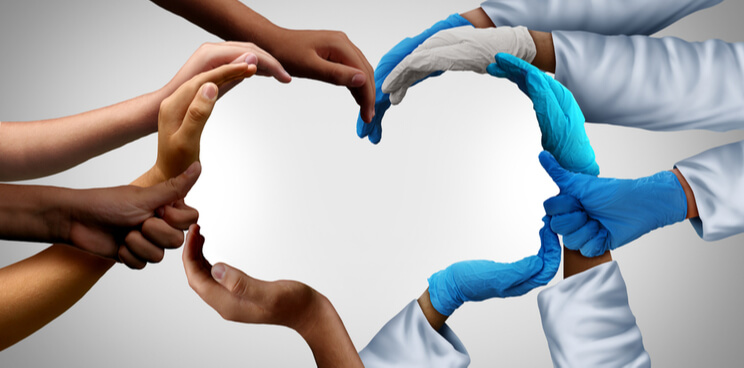 One of the reasons for this hostility between patients and drug developers is that many patient organizations feel they do not benefit from getting involved with biotech and pharma companies. 
"[Patient organizations] are raising a lot of money and they're generally funding lots of academic research," Tranfaglia explained. "Aside from cystic fibrosis, it would be nice to see biotechs feeding some of that back to the patient associations… There has to be a different model, a different way of helping patient groups to have a stake in this, to share the biotech boom, because so far, they haven't." 
From the biotechs' side, there needs to be more proactivity when it comes to involving patients in the drug development processes, Camp added. He would like to see more biotechs seeking out patient organizations for advice. 
"I would like there to be more trust and more openness and more willingness to try… If you make the trial better for patients, the patients will stay in a trial and the results will come out quicker. I would just like to see more companies do that and try that." 
Bloom has a more positive attitude towards the future: "I think patient groups are getting much more sophisticated and I think the biopharma industry is getting a much clearer understanding of how important it is to partner with these groups. I'm very optimistic about it and glad to be a part of it."
Images via Shutterstock, Elena Resko, and Anastasiia Slynko