Experts say hemophilia treatment is at a 'precipice of a therapeutic revolution.' From antibodies to gene therapy, here are some of the most innovative technologies in the field that might significantly improve the lives of patients suffering from this bleeding disorder.
Hemophilia is a genetic disorder that impairs blood clotting. When one of the genes that encode for blood clotting factors is absent or deficient, the smallest injury can trigger serious bleeding episodes. Since these genes are located on the X chromosome, the disease is much more common in males than females.
Worldwide, there are over 187,000 people with hemophilia. About 80% of them have hemophilia A, which affects the clotting factor VIII. The second most common form, hemophilia B, is due to a deficiency of the clotting factor IX.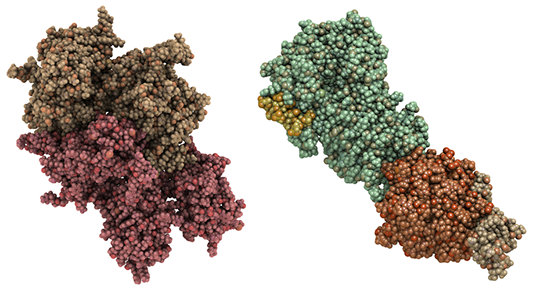 There is currently no cure for hemophilia, once known as the mysterious 'Royal Disease' that monarchs across Europe inherited from Queen Victoria. People living with this disease may require up to 3 infusions per week of clotting factors as a prophylactic therapy, as well as emergency treatment in case of an injury. Still, these patients keep experiencing recurrent bleeding episodes. And 30% of patients with severe hemophilia A develop inhibitory antibodies that leave them unresponsive to the standard treatment — recombinant clotting factors.
But the biotech industry is striving to change this situation, with the incentive of tapping a global market expected to hit €20Bn by 2024. A number of technologies, including therapeutic antibodies, RNAi and cell therapy are fighting to become the go-to treatment; Gene therapy might be the first.
How can gene therapy treat hemophilia?
Gene therapy offers the promise of correcting genetic diseases with a one-off treatment by delivering a functional DNA copy, commonly using viral vectors. Interestingly, of the thousands of genetic diseases that exist, hemophilia is the target of many biotechs working in the gene therapy space.
"Hemophilia proved to be a strong and relatively easy proof-of-concept indication," Matt Kapusta, CEO of uniQure, told me. He highlights the key aspects that make it an attractive target: the disease is monogenic, drug delivery to the liver is simple, and results are easily measured through well-characterized biomarkers.
In addition, gene therapy could significantly reduce expenses for patients and healthcare providers. "The cost of the replacement therapy alone, excluding logistics, distribution and nursing care, is between 300,000 and 400,000 dollars per year," says Kapusta. "A product like ours that has demonstrated 6.5 years of durability could save up to three million dollars."
Several biotechs are racing to launch the first gene therapy for hemophilia. Currently, uniQure in the Netherlands and Spark Therapeutics in the US have the most advanced programs.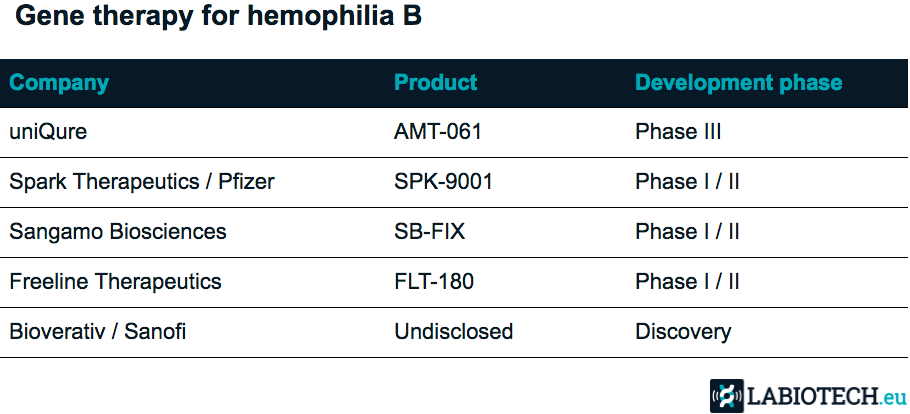 Spark scored a victory in December when it presented Phase I/II for its candidate SPK-9001. The gene therapy was able to reduce annual bleeding episodes by 97%, as compared to its competitor uniQure's candidate, AMT-060. However, uniQure has fought back. The company added a modification in its gene therapy that is known to increase clotting activity by 8- to 9- fold. This improved version has already been cleared to start a Phase III clinical trial in both Europe and the US.
"We have a very good shot at being the first to market in hemophilia B," assures Kapusta.
Hemophilia B has traditionally been the main focus of biotechs, since most big pharma efforts were focused on the bigger hemophilia A market. In addition, applying gene therapy to hemophilia A is more challenging; The gene coding for the factor IX protein missing in hemophilia B is simply smaller than that for factor VIII missing in hemophilia A, and therefore easier to fit in the viral vectors used for gene delivery.
However, this has not discouraged biotechs from tackling hemophilia A. In this indication, US-based BioMarin is leading the development of a gene therapy. To overcome the size limit, the company has deleted a region from the factor VIII protein that is not necessary for clotting.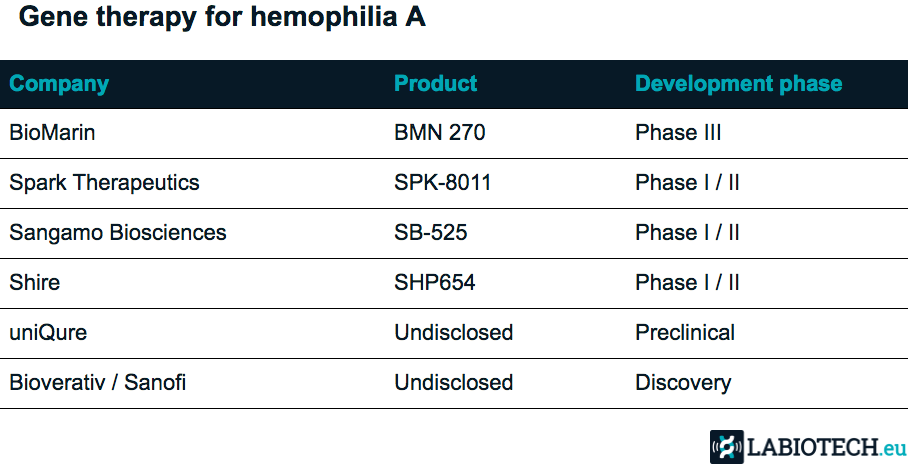 Gene therapy is not a perfect solution, though. In some cases, patients can develop immunity against a particular viral vector or foreign DNA sequences. Bioverativ, a spin-off from Biogen, is trying to circumvent this problem by using lentiviruses, which are less immunogenic and protect the DNA cargo by inserting it into the host genome.
For its part, Sangamo Biosciences has opted for an in vivo genome editing therapy. Its viral vectors also deliver zinc finger nucleases that insert the desired gene in the host genome. However, both strategies have toxicity and mutagenesis risks associated with the insertion of foreign DNA.
Ditch the viruses, here comes cell therapy
"Pharma companies are starting to understand that viral vectors are not the 'magic bullet' to make gene therapies work in the long run," John Tchelingerian, CEO of the Belgian company Promethera, told us. Indeed, his company aims to get rid of the problems associated with viral vectors and make way for cell therapy instead of gene therapy.
Promethera's Hepastem technology grows cells from the liver of healthy donors that are then injected into patients with liver disease. The company is now looking to combine Hepastem with genetic constructs to create a safer delivery system.
"We plan to attract strategic partnerships around our program in hemophilia B, and potentially hemophilia A," commented Tchelingerian. Although still in early research stage, this hemophilia treatment could make a big difference for patients in which gene therapy does not prove effective.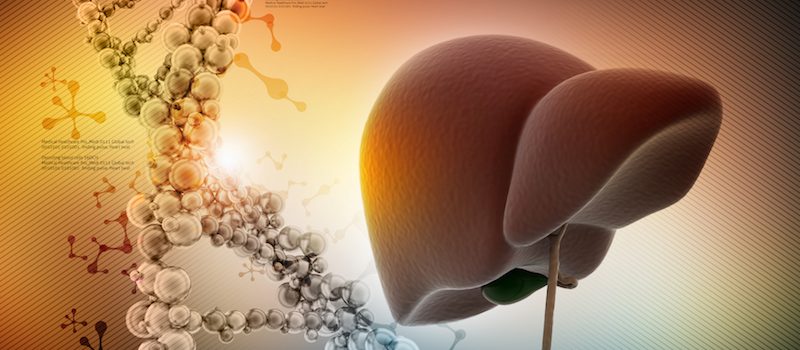 What else is out there?
While waiting for gene and cell therapy to demonstrate their potential, biotech and pharma companies are exploring several other avenues to treat hemophilia. For example, Sanofi and Alnylam have decided to bid for RNAi therapy. Their candidate, called fitusiran, blocks the anticoagulant protein antithrombin to promote blood clotting. However, clinical trials are on hold after a patient death was reported, and some are skeptical about the technology after failures from companies like Roche, Merck, Abbott and Alnylam itself.
Meanwhile, a British-Belgian biotech called Apitope is trying to provide a solution for those patients with hemophilia A that develop resistance to infusions of coagulant factor VIII. The company is developing a drug, still in the preclinical stage, that could both prevent and treat factor VIII intolerance.
Other biotechs like Sobi or Glycotope are aiming for coagulant factors with an extended half-life, which could reduce dosing from multiple times to just once a week to keep patients better protected from spontaneous bleeding. Sanofi recently bought its way into this field by acquiring Bioverativ. With this move, Sanofi has added two extended-half-life candidates as well as two gene therapy programs.
In the world of big pharma, Roche stands out. Its antibody Hemlibra (emicizumab), approved in November, mimics the factor VIII protein with a half-life of 4 to 5 weeks. The drug candidate is also effective in patients that have developed resistance to the standard treatment. This might help Roche bench Novo Nordisk, whose recombinant clotting factor VII drug, called NovoEight, was launched in 2014.
"Emicizumab is easier, simpler and faster," Guy Young, from the Children's Hospital Los Angeles, told Nature. "I think it has the potential to be transformational for patients — really, truly, life-altering."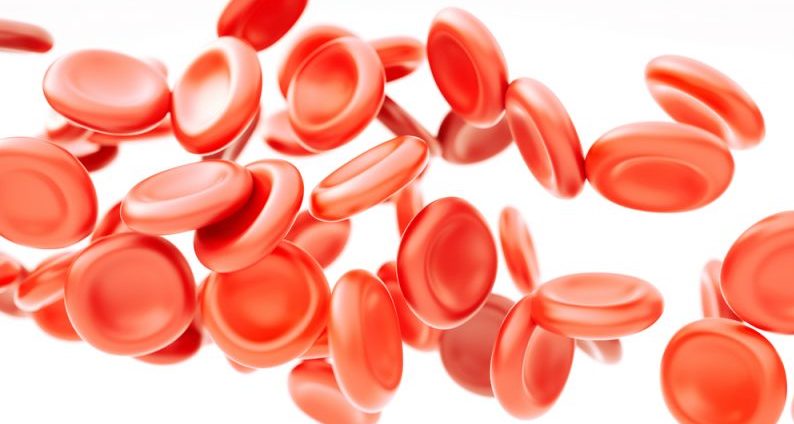 The future of hemophilia treatment
Unfortunately, a cure for hemophilia doesn't seem feasible yet. "Our gene therapy was never intended to be a cure, which would entail restoring close to 100% of Factor IX activity, and it's highly unlikely that we or others would get to that level," admits uniQure's CEO Matt Kapusta.
Still, the multiple treatments that are underway might significantly improve the quality of life of patients with hemophilia, by getting rid of frequent infusions and hospital visits, and transitioning patients from severe to mild hemophilia. In the words of Jan Hartmann and Stacy Croteau from Harvard Medical School, "hemophilia is now at the precipice of a therapeutic revolution."
According to their paper in the American Journal of Hematology, these innovations "address gaps in our current approach to hemophilia management but do not provide a one-size-fits-all opportunity." Once all these new options make it to hospitals, the next step will be matching each patient with the most beneficial therapy for their particular form of hemophilia and move towards a personalized medicine approach.
---
This article was originally published on 24/01/2016 and updated on 12/02/2018
Images via Lightspring, Kanowa, interphasesolution, Crevis /Shutterstock