Today, we're in Faenza, Italy, visiting GreenBone, a biotech developing wood-derived bone implants for patients with bone fractures.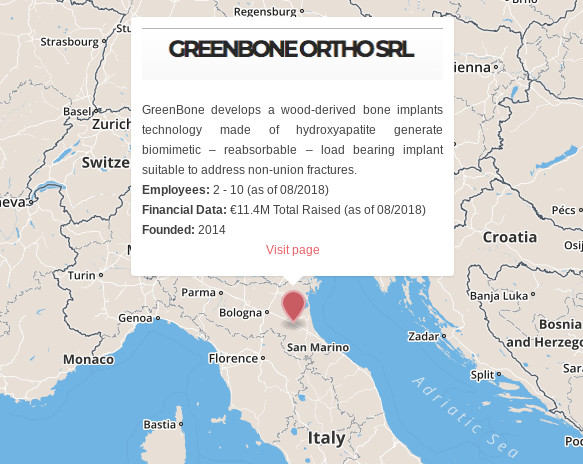 Mission: Founded in 2014, GreenBone takes bamboo and converts it to a calcium compound called hydroxyapatite. The material could be used as an alternative to bone grafts made from a deceased donor or bone taken from another part of the patient's body.
GreenBone's hydroxyapatite implants preserve the channel-like, porous structure of the original wood, which helps new bone and blood vessel tissues form a bone-like structure. According to Greenbone, its material can be produced in large quantities and its shape modified for specific patient needs before implantation.
Last year, the company raised €8.4M to bring its technology through clinical testing by 2019.
What we think: Bone grafting is used to replace injured bone, and help heal fractures and bone around surgically implanted devices like joint replacements. However, most bone grafts either remove bone from another part of the patient's body or carry the risk of being rejected by the immune system. By using its hydroxyapatite implants instead of the patient's bone, GreenBone could help reduce the number of operations patients undergo when getting a bone transplant and decrease rejection risk.
Other biotechs are also working on bone grafts that could minimize the need for multiple surgeries. For example, Bone Therapeutics is using a type of cell called an osteoblast to regenerate bone tissue. Bunos Biogroup, an Israeli biotech, claims to be the first biotech to successfully transplant a bone graft made of a patient's adipose-derived stem cells into the patient's leg to regenerate bone tissue. The technology is currently being evaluated in a Phase I/II study.
Developing multiple bone grafting technologies that minimize surgeries and help patients to heal quicker can only help clinicians find the best treatment option.
---
Image by Eddy Galeotti/Shutterstock
Explore other topics:
Italy