Pharma and Biotech from every corner flocked to Chicago for the beginning of June. Why? It's where one of the biggest oncology events happens – the ASCO Annual Meeting 2016.

Shortly after the AACR annual meeting (with presentations from several European Biotechs), it's time for the ASCO annual meeting. Hosted by the American Society of Clinical Oncology, it ran from 3rd to 7th of June and was an opportunity for many companies to present their latest achievements in cancer therapies.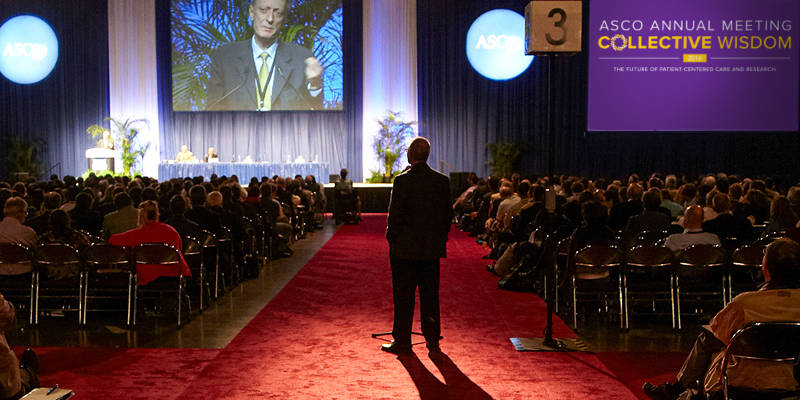 ASCO 2015 already featured many European breakthroughs, and we also covered some of the work to be presented this year, such as Ganymed's ideal antibodies.
Now that this year's event has come to an end, we will take a closer look at the work of European Biotechs presented at this important conference…
Companies in no particular order
---

As a Swiss-German Biotech, Vaximm is developing oral T-cell immunotherapies. Specifically, the therapies are live bacterial vaccines that stimulate the patient's killer T-cells to target specific structures of the tumor.
Vaximm presented data on its leading candidate, VXM01 – an attenuated Salmonella strain which carries a eukaryotic expression plasmid encoding VEGFR-2 – a common protein in cancer.
In a Phase I trial with advanced pancreatic cancer patients, 12 out of 18 have shown increased immune response toward the tumor with no significant adverse reactions. In responding patients, the candidate nearly doubled the median overall survival, which is impressive.
---

As one of the few unicorns in European Biotech, Immunocore develops ImmTACs. These are bispecific biological reagents combining a T-Cell receptor (TCR)-based targeting system with an anti-CD3 flagging system to attract T-Cells.
Immunocore presented data from its first-in-human study with IMCgp100, its lead candidate.
In a Phase I trial for metastatic melanoma, IMCgp100 has shown a favourable safety profile and prolonged responses in both uveal melanoma and cutaneous melanoma. This promising data should support further Phase II trials.
---

Based near Munich (Germany), 4SC is a Biotech developing small molecules that can target epigenetic mechanisms relevant to cancer – particularly in cell signaling. Its leading candidate is Resminostat, currently in Phase II development.
At ASCO, 4SC is presenting results from their 'second child', 4SC-202.
It has data showing that the molecule can strengthen the action of checkpoint inhibitors. In mice with tumors resistant to the action of anti-PD-1 (the most common checkpoint inhibitor), treatment with 4SC-202 led to reduction in tumor size.
---

With its huge antibody libraries, MorphoSys is currently in clinical trials with more than 20 candidates. At ASCO, MorphoSys presented data on therapies for different types of blood cancer.
The anti-CD38 antibody to treat multiple myeloma, MOR202, has shown no adverse reactions when infused. The candidate was used in combination with immunomodulatory drugs (IMiDs), reaching complete and partial responses in part of patients enrolled in small studies.
For MOR208, MorphoSys has results showing a 40% disease control rate in relapsed/refractory diffuse large cell B cell lymphoma (DLBCL) and 73% in indolent non-Hodgkin's lymphoma (iNHL).
---

PharmaMar in Madrid (Spain) has a bit of a different approach to drug discovery. It researches compounds present in marine organisms to assess if they have biological action against tumor cells.
After a market filing last month for its candidate Aplidin, PharmaMar has now presented data from Phase I trials of  Aplidin in combination with chemotherapy (bortezomib and dexamethasone) in patients with relapsed and/or refractory multiple myeloma.
The treatment was well tolerated by the 20 patients, and it had an overall response rate of 56% – including a partial remission in a patient whose cancer had reappeared 3 times after treatment.
---

Janssen was present at ASCO to present Phase III data for daratumumab, the result of collaboration with Genmab (one of the coolest Biotechs in Copenhagen).
The candidate is now tangled in a lawsuit launched by MorphoSys over patents covering the use of antibodies to target the CD38 surface antigen.
When in combination with two other cancer chemotherapies (bortezomib and dexamethasone), daratumumab has shown a 61% risk reduction of progression or death in patients with relapsed/refractory multiple myeloma.
---

Boehringer Ingelheim was present at ASCO to present new data on olmutinib (BI 1482694), a novel epidermal growth factor receptor (EGFR) mutation-specific tyrosine kinase inhibitor that was bought for €661M from South Korean Hammi.
The therapy is in accelerated development, with a Phase II and two Phase III trials beginning soon in patients with EGFR T790M mutation-positive lung cancer.
So far, olmunitib has promising efficacy results and shows only mild-to-moderate side effects.
---

Transgene is the oldest French Biotech. After some hard times in the financial front, it is bouncing back in big part thanks to its oncolytic immunotherapies.
One of these therapies is Pexa-Vac, a virus armed with a GM-CSF gene that promotes an anti-tumor immune response, as well as 'exploding' cancer cells through viral replication.
At ASCO, it presented a poster from its Phase III trial in advanced hepatocellular carcinoma (HCC) – where Pexa-Vac has so far shown  an acceptable safety profile and a significant increase in overall survival.
Update 12/06: No results were shown, as initially stated.
---

A neurotoxin specialist moving to Oncology, Ipsen (France) was at ASCO to present results from cabozantinib, a small molecule drug it has recently bought from California-based Exelixis.
The results from Phase III trial in advanced renal cell carcinoma show that the overall survival of patients was 21.4 months.
This is 5 months more than Everolimus, the standard therapy for resistant renal cancer.
---

Based in Edinburgh, NuCana is entirely focused on oncology. It develops ProTides, a protective phosphoramidate compound that can be combined with other anti-cancer medicines to bypass resistance mechanisms of the tumor.
After presenting its Phase I trial last year, NuCana is again at ASCO with results from leading candidate Acelarin (NUC-1031). This is an enhanced form of gemcitabine, the current standard therapy for pancreatic cancer.
Acelarin achieved a response rate of 30% with ovarian cancer patients, for whom previous treatments (an average of 3 chemotherapies) hadn't worked.
---

Based in Cambridge (UK), Inivata focus on clinical cancer genomics. It develops analysis methods for circulating tumor DNA (ctDNA), to support personalized decisions about cancer treatment with just a blood test – the hype concept of liquid biopsies.
Inivata was at ASCO to introduce its ctDNA assay for broad molecular profiling (InVision) and clinical data from its use in patients with non-small cell lung cancer (NSCLC).
The assay detected the same molecular abnormality than in the tissue in 7 out of 9 patients, with a 78% concordance rate (a measure of reliability).
---

As a spin-out of the famous Karolinska Institutet in Sweden, Aprea had a one of the largest Biotech fundraisers in Scandinavia this March. This Biotech is targeting the most frequently mutated gene in human cancer (p53) with a small molecule (APR-246). This reshapes the deficient p53 tumor-silencing protein and makes it functional again.
Aprea presented results from the first part of ongoing Phase Ib/II trial (PISARRO), in which APR-246 is combined with standard therapies (carboplatin and PLD) in patients with relapsed high-grade serous ovarian cancer.
The combined therapy doesn't seem to provoke more adverse advents than the isolated chemotherapy, and there was an response to therapy in 18 of the 24 patients (75%).
---
These companies have presented many important results at this key conference, some of which could be headed to market soon, as potential alternative treatments to some of the most difficult cancers.
European Biotech is hard at work …
---
Feature Image Credit: Pixabay
---