If host cell proteins linger in your biological therapeutic, they can cause your clinical failure or regulatory rejection. Here's how you can keep track of them.
Today, biological drugs are generally produced in cell lines — from yeast, Chinese Hamsters, or a variety of other sources. It's pretty cool that humans can manipulate these organisms to do this work for us, but that's not the end of the story: extracting the therapeutics from the cells is difficult!
Host cell proteins (HCPs) are the most common contaminants. These proteins are present in low concentrations and can confuse a researcher trying to analyze a sample of his or her product. Moreover, they can significantly impact drug efficacy and lead to immunogenic effects when administered to patients.
As a result, HCPs are a major reason that a clinical trial may fail, and their analysis is a standard part of any submission to regulatory authorities. Many methods exist to analyze them, including ELISA and other Ligand Binding Assays (LBAs), the gold standard for protein analysis, but it is only possible to quantify or identify individual proteins with a specifically developed method that becomes time consuming and expensive. Some simpler LBAs make it possible to quantify a global amount of these proteins, but not identify specific ones.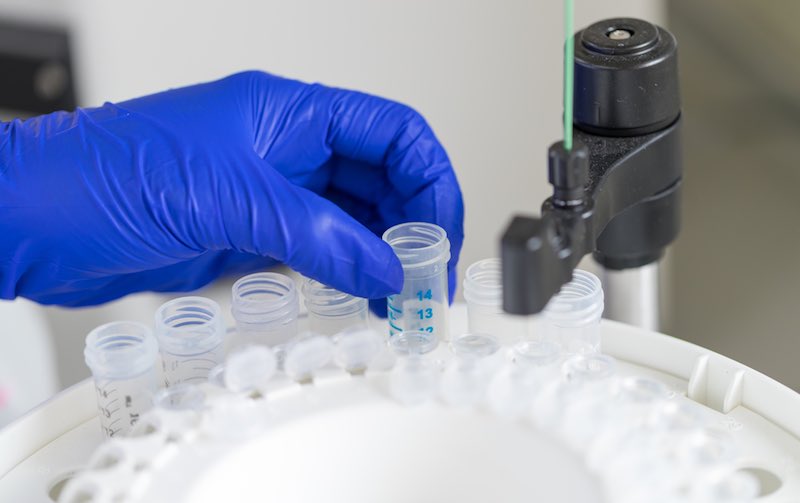 It is possible to collect such information via mass spectrometry, but the analysis of proteins in this manner is so complex that it has been given a field of its own – "quantitative proteomics." Because of the required expertise and hefty investment in the machinery, not many biotech companies have the resources to integrate the technology into its operations.
The experts at ANAQUANT, a French startup, told us about their aim to help biotech and pharma companies navigate this step of quality assurance. They develop from scratch analytical tools using LC-MS to quantify, identify and monitor individual proteins in the all-important toxicity and efficacy assays, as well as in every manufacturing step. Normally, a rigorous analysis would be complicated and expensive, but the company's support service brings it to biotech startups.
ANAQUANT believes LC-MS opens new analytical routes for HCPs and protein analysis, so it's developing a complete solution for biotech companies as well as kits for LC-MS users. These kits are made to democratize LC-MS analysis and facilitate routine analysis such as HCPs identification and quantification.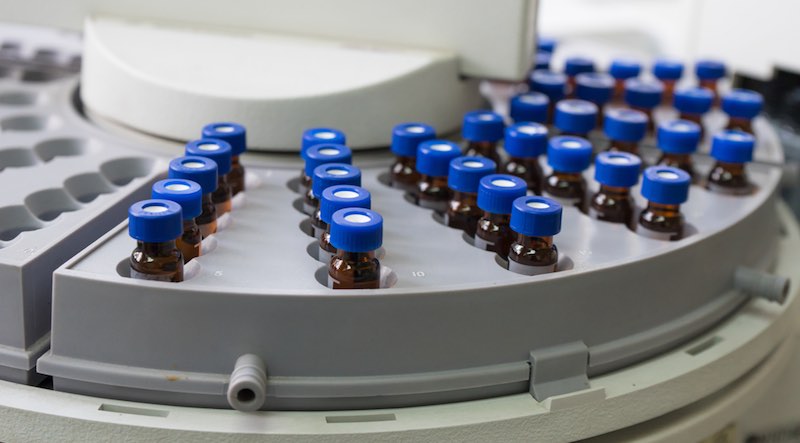 "If you can put sugar in coffee, you can use our technology," a representative told us. ANAQUANT designed the technology to make it simple and easy to internalize in order to make method development available for everyone.
The kit hinges on READYBEADS technology, a new concept for ready-to-use standard solutions that allows the preparation of very complex mixture in a minute. And thanks to the unique property of its polymer, READYBEADS improves the solubility and the stability of the coated molecules serving as an internal standard. This innovative approach is based on a water-soluble biopolymer that does not interfere with mass spectrometry analysis. The coated READYBEADS will be dissolved directly in your sample to release the internal standards at a controlled concentration.
The first such kit that ANAQUANT has launched is called RT Beads, which is used for retention time calibration for LC-MS analysis. These beads are coated with 14 non-naturally occurring synthetic peptides and thus do not match with any known proteome.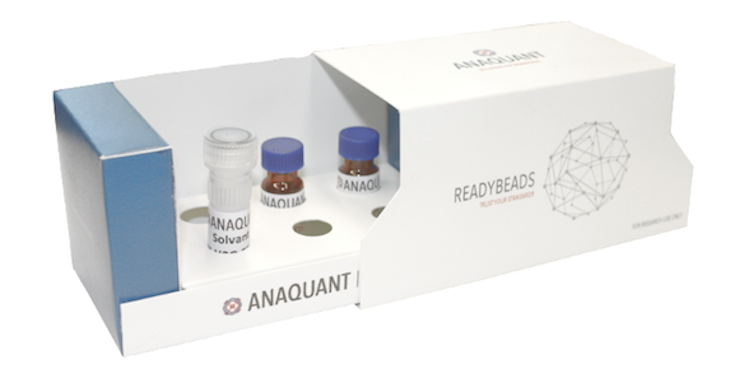 The power of RT beads kit lies in the ready-to-use solution. As the 14 peptides are coated to the READYBEADS at the final concentration, you don't have to weigh anything out, you just use one bead when you need to analyze your samples and the beads boast high reproducibility. If you need a new solution, you just dissolve a new bead — you don't have to aliquot anymore!
Moreover, READYBEADS are stable at room temperature for months and preserve for a week once in solution, so it's easy to work with them. A kit comes with five of these, and just one is sufficient for 50 samples of 20 uL, so you can analyze up to 250 samples.
Thanks to READYBEADS, a biotech having LC-MS can streamline the extensive calibration process to analyze HCP contamination and import the capabilities to quantify and identify contaminants from the growth matrix. But if you can't afford an LCMS or the beads, ANAQUANT still has you covered with its analysis service so that mass spectrometry is no longer such a major investment. ANAQUANT has made it possible for small companies to access the technology's benefits for dramatically less time and money.
If ANAQUANT technology sounds like a solution for you, check out the company's shop
---
Images from molekuul_be, anyaivanova, Chun photographer, Lab Photo / shutterstock.com, Anaquant