Levicept's Phase I study will test their new pain relief candidate's safety and tolerability in healthy individuals and osteoarthritis patients.
Levicept, based in Sandwich, UK, focuses on the development of its pain relief candidate, LEVI-04, a p75 neurotrophin receptor fusion protein (p75NTR-Fc). The Phase I study is the company's maiden voyage into the clinic, and it will test the safety of a single ascending dose. Levicept believes that the drug can overcome major flaws in the field by providing safe and effective analgesia.
"I was working on alternative methods of modulating NGF, and that's when I came up with LEVI-04," CEO Simon Westbrook told me. NGF, or nerve growth factor, levels are elevated in chronic pain, and LEVI-04 modulates the pathway to provide analgesia. "It acts like a sponge where it grabs hold of excess neurotrophins and slowly links them out to maintain normal function," he elaborated. However, NGF also plays a very important role in repairing bone and cartilage, a benefit that is lost if levels get too low.
Anti-NGF antibodies have been tested, but they remove all NGF, which can have serious side effects like speeding up osteoarthritis progression. "Anti-NGF antibodies completely stop NGF from binding to its receptor, which causes analgesia but completely ablates signaling so you don't have the normal function," Westbrook explained. LEVI-04, on the other hand, provides a stable binding protein that binds excess NGF to restore normal levels without canceling the signaling for healthy repair and maintenance.
The most commonly used analgesics available at the moment are non-steroidal anti-inflammatory drugs (NSAIDs) and opiates, which are limited by dangerous side effects and addictive properties, respectively. This unmet need means new options are needed. "There really hasn't been a brand new analgesic on the market for a decade, so there's a huge unmet medical need," he told me. An interesting approach that has been taken by German pharma, Grünenthal, is to personalize pain therapy, based on patients' genetics.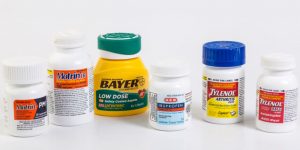 Pfizer and Regeneron have been working on anti-NGFs but in 2012, the FDA placed a clinical hold on all such programs until companies could demonstrate safety from neurological damage. When Pfizer applied in 2015, its program overcame the hurdle and even got a Fast Track Designation from the FDA.
But pain is a particularly difficult field to enter. Just 2% of new pain treatments get past Phase II and this is often due to too many off-target effects. The company's claims that LEVI-04 suggest that the candidate could escape this fate: "We see no adverse effects right up to the highest tested dose — around 6000 times the predicted human does," Westbrook said. If LEVI-04 reaches its potential, Levicept will have access to a market opportunity worth up to $10B (€8.4B).
And the company isn't stopping there: it might also branch out into acute pain. "We see a pretty good efficacy from a single dose, so in that respect, LEVI-04 could be good for acute pain," Westbrook told me. For now, the company is looking for a big pharma partner, since the company is built on a single-asset virtual model.
There is a critical need for new pain relief treatments. Currently, NSAIDs cause 15,000 deaths per year in the US alone, and an estimated 36 million people abuse opiates worldwide. LEVI-04 could provide the solution, but it first has to succeed where others have failed and show it can be safely taken, especially for long term use.
---
Images –  toons17 / shutterstock.com; Warren Price Photography / shutterstock.com
SaveSave
SaveSave
SaveSaveSaveSave